![if !IE]> <![endif]>
Erick's Early Years in Southeastern Colorado
Born December, 1948




1915-1916: Erick's Grandfather, Jessie Frank Conard, harvesting wheat.
Jessie Frank Conard was born in 1892.


Erick Conard, September, 1950
One year ten months
Until he was seven, Erick lived on his family's three section ranch 35 miles south of Holly (a town with ~2,500 population) in southeastern Colorado near an intersection designated Lycan, Colorado, on the map. The nearby ranching families called this intersection Buckeye since Buckeye General Store was at the intersection. The General Store got its name because the building was moved from Buckeye, Illinois. Erick's Grandmother, Frank's mother, once owned and operated this General Store and Post Office (you can see pictures of this store and "Mom" taken about 1940 at "Iva Hazel Henry Conard's page," Erick's Grandmother ). She moved to Wyoming around the time Erick was born. The only other building at this intersection was Buckeye School, a one room schoolhouse with out houses for rest rooms. Erick attended the first grade there with 19 other students from the first through the eighth grades.



Erick in Colorado in 1952 when three.

First Grader Erick Conard (first row, middle) and Second Grader Frank Conard II (second row, second from left) at Buckeye School in 1955. Buckeye school was a one room school house in Lycan, Colorado with one teacher and students from the first through the eighth grades and two outhouses.



1st ROW: Donnie Knott, Blaine Bender, Erick "Ricky" Conard, Ronnie Knott, and Jimmy Spencer.
2nd ROW: Harry Spencer, Frank "Frankie" Conard II, Cathy Whisnant, Harry Meek, Kelly Bender, Vonda Manning, Sherry Foster, and Dean Spencer.
3rd ROW: Larry Meek, Don Payne, Bessie Baker, Billie Jo Manning, Billie Carl Baker, Jimmy Meek, Robert Spencer, and Mrs. Jesse Layton



First Grader Erick Conard (first row, middle) and Second Grader Frank Conard II (second row, second from left) at Buckeye School in 1955. Buckeye school was a one room school house in Lycan, Colorado with one teacher and students from the first through the eighth grades and two outhouses.



The ranch at Buckeye was a traditional dryland farming/ranching operation; in addition to dryland farming (mostly wheat) we raised Herford cattle, Quarter horses, pigs, and chickens. We also had a large and productive garden.


Erick Conard, Colorado, 1954
Five years old.
"Santa" brought Erick his first horse, a Silver Dappled shetland pony mare, when Erick was four. When he was six, he began calling a special sorrel Quarter mare, Miss Glory, "his" mare.


Erick's Parents



This picture was taken in 1928, probably in far Western Kansas near the Colorado border. Riding the cow are Erick's father, Frank W A Conard, in back and Frank's cousin, Gerald McKeeman, in front. Frank Conard was born May 27, 1920, at his parents home in the country about seven miles from town in Western Kansas not far from the Colorado border.

Use this link for
Billie Faye Waller Conard Pictures




At left is Erick's father, Frank Conard, with Erick's mother, Billie Faye Waller Conard, not long after they moved to the ranch in Southeastern Colorado in 1947.

On the right is a picture of Erick (right), his older brother Frankie (left), and their Dad, Frank Conard in their yard at the ranch on April 17, 1951.




CLICK HERE to
Link to the LIFE STORY
of Frank and Billie Faye






This is a picture of Billie Faye Waller Conard in September, 1930, when she was four years, 10 months old.


Use this link for
Frank W A Conard Pictures




College at Hardin Simmons, Abilene, Texas


Erick during his college years (1967-1971)

Erick attended college at Hardin-Simmons University in Abilene and graduated in 1971. When he graduated he had $200.00 in cash. His dad bought him $40.00 worth of can goods and he packed his car and drove off in search of a job. He stopped in Austin, Texas, where he had friends attending the University of Texas. After spending the week with his friends, he realized he really liked Austin and decided to stay.

Although Erick's father had offered him a job, he felt he needed to make his own way in the world and didn't return home to live off his family. Erick's low draft number greatly decreased his prospects of being hired but he refused to live off his parents. Eating only canned vegetables and canned soup for four months actually make a great diet. When Erick found a job in December, 1971, he weighed a very lean 135 pounds. With an income and exercise, he got his weight back to his normal 148 lean pounds and was able to maintain that weight until shortly after he was 50 years old.



Erick in 1969 in HSU Rodeo Club Picture

Austin, Texas

Erick secured a job as a Virologist with the Texas Department of Health. His area of expertise was rabies diagnostics. After approximately 12 years in the laboratory, he changed careers and became a health physicist.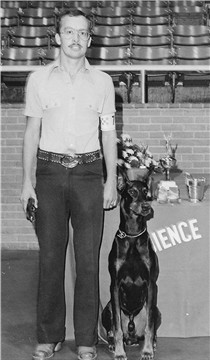 Kane

Erick with his Doberman, Kane
In Corpus Christi, Texas, May, 1977
Winning
1st Open Dog,
1st Working Group, and
2nd Highest Scoring Dog in Show.

This show had ~ 500 obedience entries.


"Kane was an amazing dog - beautiful, intelligent, and loving."
Health physics is involved with the health and safety aspects of radiation. Erick's position as a health physicist was also with the State of Texas.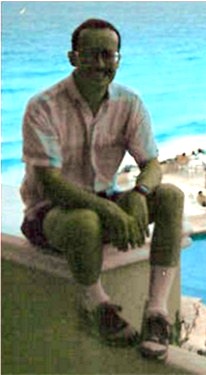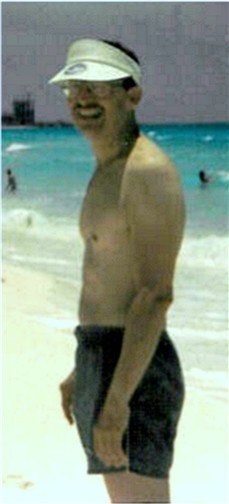 Erick vacationing in Cancun, Mexico, October 1989 when he was 41 years old.
Discovery of Anatolian Shepherds


Erick moved his animals, which included Barbadoe sheep and Nubian goats, to Conard farms in 1985. For the first few months all was well - then the killing began! Almost every other day Erick found a sheep had been killed by coyotes. He stayed home from work to shoot the coyotes responsible for his ongoing losses, but these coyotes were especially cleaver and he rarely ever saw one and never hit one. Finally, with pastures full of lush spring grass, he locked all his goats and sheep in the barn to save them.

During this stessful time Erick was reading a goat magazine which had an article about a "new" kind of dog - a working guardian dog from Turkey - the Anatolian Shepherd Guardian dog. The article said Anatolians would bond to sheep and goats, live with them, and protect them from predators. Erick set down the magazine, picked up the phone, and called Marilyn Harned, an officer in the Anatolian Shepherd Club of America. She was friendly and informative and Erick asked her where he could obtain the best serious working Anatolian pup. Marilyn suggested several people, including Jean Ebeling of Marble Falls, Texas. Jean raised strictly working Anatolian Shepherds on her large ranch for the protection of her huge Angora herd. Amazingly, Jean had a litter of seven week old pups at the ranch but only one pup, a male, was still available. Erick purchased the pup over the phone, sight unseen, drove to Jean's ranch, and picked up his first Anatolian, which he named Ebeling's Kasif (Casy), who was resting among a small group of Angora the first time Erick ever saw him. Erick has owned and loved Anatolian Shepherds ever since!



Erick in 1991 on a scuba diving trip at the Sea of Cortez in Mexico.




Erick at Conard Mountain Property in Colorado, July, 1993.




Erick in 1993 at Conard Farms in Elgin Texas.




Erick on his birthday in 1995 at Conard Farms in Elgin Texas.


Trip to Guadalupe Peak

In October, 1994, Erick decided to drive to Guadalupe State Park for a short vacation with a couple of his friends and his horse, Lady. This vacation was made in conjunction with a trip to nearby Del City, Texas, to purchase half a trailer of alfalfa. (Erick had to use the other half of the trailer for his horse!)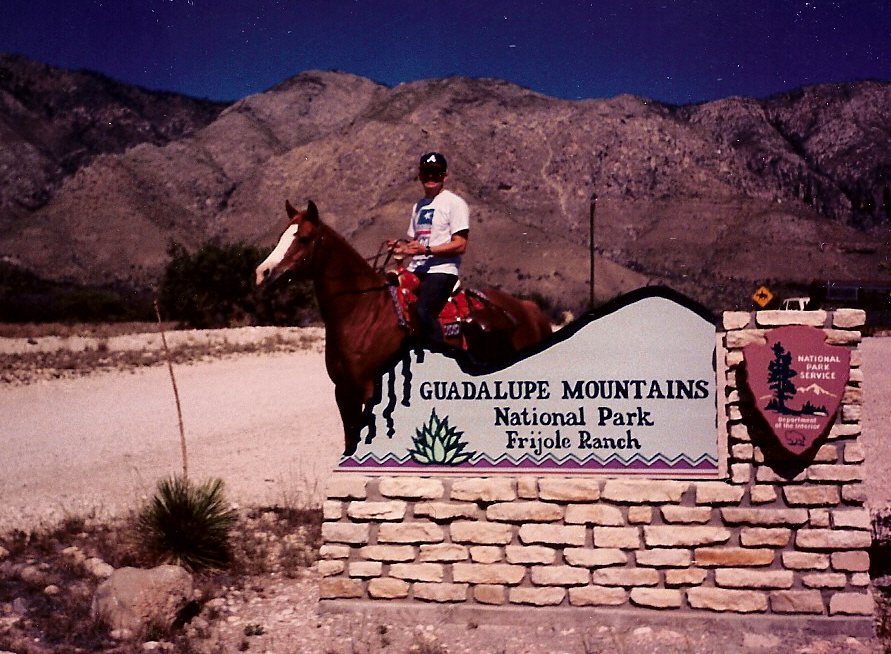 Erick in October, 1994, at Guadalupe Peak with his Anglo Arabian, Lady.
The saddle in this picture was hand made and hand tooled by his father, Frank W. Conard, specifically for him.

During this trip, Erick rode to the top of Guadalupe Peak on his young Anglo-Arabian, Lady! This trip was one of Lady's first trips off property and Erick discovered that riding to the top of the Guadalupe Peak horseback was a great challenge - far greater than Erick ever expected!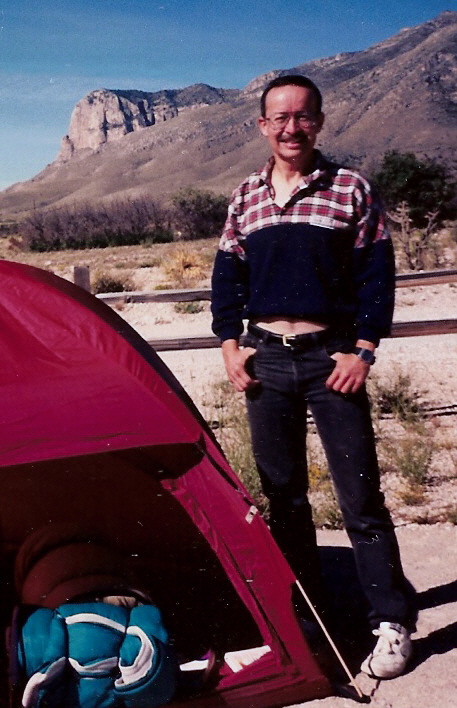 Erick in October, 1994, camping out at Guadalupe Peak.
You can see Guadalupe Peak in the background (or is that El Capitan?).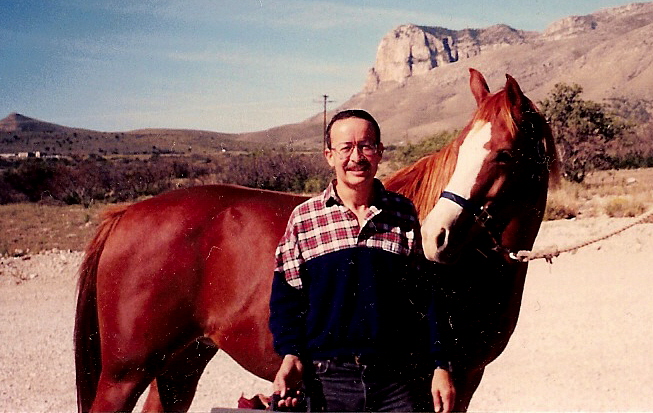 Erick in October, 1994, grooming Lady prior to riding at Guadalupe Peak.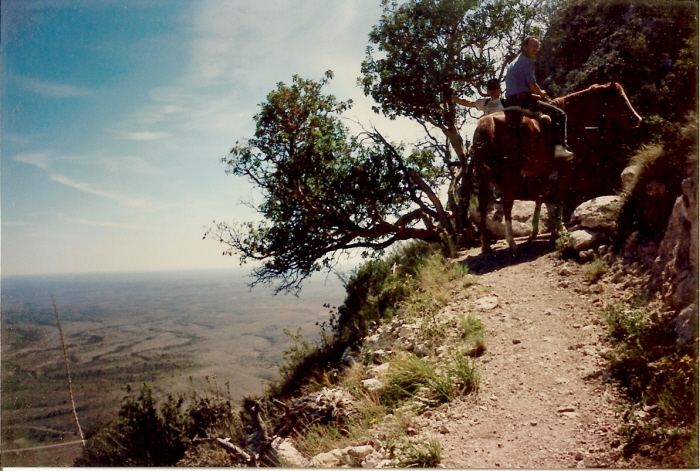 Erick in October, 1994, with Lady halfway to the top of Guadalupe Peak.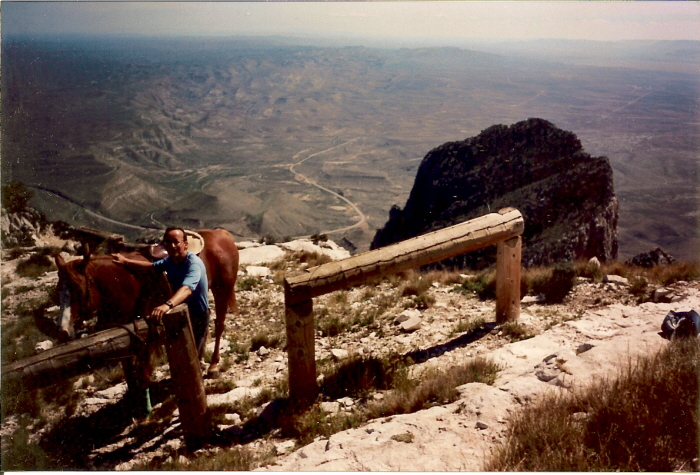 Erick in October, 1994, with Lady at the top of Guadalupe Peak.


Purchase of Lucky Hit Ranch


After selling Conard Farms near Elgin in 1997, Erick purchased Lucky Hit Ranch. A few year later, on February 29, 2000, Erick retired from state work and began working on his ranch full time.




Link to Lucky Hit Ranch Pictures
Erick on December 31, 2009 (when 61 years old) at Lucky Hit Ranch
with CHAMPION LUCKY HIT Bethany KAMIL when she was 8 weeks old.


Erick on April 10, 2011 (when 62 years old) at Lucky Hit Ranch"

Erick continues to raise goats, llamas, ducks, geese, and Anatolians at his little ranch at the edge of the Texas Hill Country. He is especially proud of his accomplishments with his Anatolian Shepherds!




Erick at Lucky Hit Ranch on July 22, 2012
working with Anatolian puppy
Lucky Hit DivaKiz RANA




Erick at Lucky Hit Ranch on July 22, 2012
working with Anatolian puppy
Lucky Hit DivaKiz Asure (ASH)


Jessie Frank Conard
* November 1892 Missouri
† January 1961











Abner Ethelbert Conard
* 1851 Loudon Co., Virginia
†





Mary Conard
* 1857 Missouri
†








Abner Alexander Conard, Born: 2 Dec 1821 at: Louden Co, VA Married: 3 Mar 1846 at: Louden Co, VA Died: 5 Oct 1898 at: Bates, MO
* December 2, 1821 - † October 5, 1898
Father John Conard III Born January 11, 1797, Loudoun Co, Virginia Marriage abt 1820 Died May 5, 1854
(John's parents- John Conard II and Barbara Ann Smith)
Mother Mary Margaret Christina Everhart (1800-1868)Birth 11 Dec 1800, LOVETTSVILLE, LOUDOUN CO., VA Death 9 Apr 1868, LOVETTSVILLE, LOUDOUN CO., VA Burial KEHOBOTH METHODIST CEMETERY, LOVETTSVILLE, VA
Mary's Father PHILIP EVERHART (1770-1849) Mary's Mother SCHARLOTTE AXLINE (1776-1827)

Ann Susanna Neer - a daughter of Jesse and Matilda (DeKalb) Neer. The Neers were farmers and slaveholders of Loudon County, Virginia, the father being of English and the mother of German blood.
* Born 1825 - † Died at Ness City in 1912, at the age of eighty-seven (87) years
Another reference said Ann Susanna Neer was Born: 18 Feb 1828 at: Louden Co, VA Died: 11 Dec 1913 at: Bates, MO Ann's Father:Jessie Neer Ann's Mother:Matilda D Kalb























George Beavers
* 1878 October 5 Saturday
† 1942 September 6 - 1:30am Buried in Hamlin, TX
Married Stella White - 1901 April 7










Washington Lafayette Bevers *1847 December 16 - †1890 May 8 (Measles epidemic)
Buried in Decatur, TX Wise Co
Married Mary Ann Watson 1867 Jan 10

Mary Ann Watson Bevers *1848 May 16 - †1926 April 12 in Eden, TX
Married Washington Lafayette Bevers 1867 Jan 10