![if !IE]> <![endif]>
Erick Conard's Lucky Hit Ranch:
Tonkinese Cats Page
---
Click picture below for
Erick Conard's Address Email and Phone Number Information
in a New Window
Erick's Address Email

and Phone Numbers Link
---
ERICK CONARD'S LUCKY HIT RANCH CATTERY
*** Continuously Enjoying Tonkinese since 1974 ***
---
The Tonkinese: A Beautiful Blend
The Tonkinese is a hybrid breed created by crossing Siamese with Burmese. Crossing the playful, intelligent, vocal, and outgoing Siamese with the cuddly, affectionate, and gentle Burmese has resulted in a breed that contains the best characteristics of both parent breeds. The ideal Tonkinese body type is intermediate between the heftiness of the compact Burmese and the slenderness of the Siamese. Tonks have superb muscular tone and are surprisingly heavy for their size; at the same time, their bodies suggest an innate elegance. Tonkinese are active, sociable cats with evident muscular development and vigor.

Brownie II - Female
Natural (Seal or Sable) Mink Tonkinese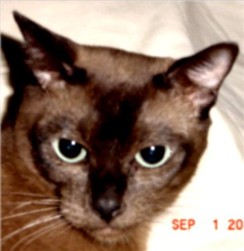 Although the breed is considered "medium" in size, balance and proportion are more important than the relative size of individual cats. Tonks' legs are slender; their hind legs are slightly longer than their front legs. They have wedge-shaped, medium sized heads with a profile displaying a gentle curve on the forehead and a delicate dip at the eyes. Their ears are medium-sized and pert, with oval tips and broad bases. Tonks eyes are almond-shaped and round slightly at the bottom. They have medium to long tails that are wider at the base and taper to the tip.



Teaka - Four month old Female

Platinum (Lilac) Pointed Tonkinese
a Brownie II X Aristotle Onasis daughter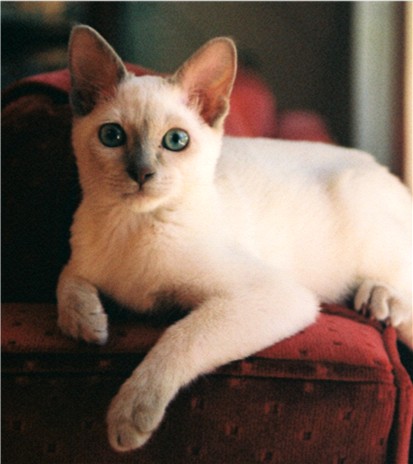 The Tonkinese was accepted by the Canadian Cat Association for foundation registration in the 1960's and was referred to in Canada as the "Golden Siamese" or the "Tonkanese." Tonkinese were recognized as a breed by United States cat associations during the 1970's. Since then, the Tonkinese has continued to gain in popularity, both in the show ring and in the home.

Tonkinese color is a combination of
three patterns and four colors.
| | |
| --- | --- |
| The three patterns: | The left column shows the intensity of the points and the right shows the intensity of the body. This example uses the Natural (Seal or Sable) color but note that the colors are NOT correct for a living Tonkinese. |
| Solid ( or Sepia) | -Only Burmese pattern genes are present (These Tonkinese have green/gold eyes.) |
| Pointed | -Only Siamese pattern genes are present (These Tonkinese have blue eyes.) |
| Mink | -Both Burmese and Siamese pattern genes are present. (These Tonkinese have aqua [blue-green] eyes.) Burmese/Siamese pattern genes are equally dominant. |
The Four colors
Natural (Seal or Sable)
Champagne (Chocolate)
Blue
Platinum (Lilac)
Since there are three possible patterns and at least four possible colors, Tonkinese come in a minimum of twelve different color/pattern combinations. However, the color/pattern names vary with different cat associations. For example, a cat with a solid pattern and the darkest color gene could be identified as a Natural Sepia, a Seal Sepia, a Sable, and/or a Sable Solid. Some cat associations recognize additional colors, including the Honey Mink (a pale, golden cream with light, carmel-brown points). Although solid and pointed patterns are recognized show patterns in some cat association's shows, not all associations allow solids and pointeds to be shown.

Angel II - Six month old Female
Champagne (Chocolate) Mink Tonkinese
a Brownie II X Aristotle Onasis daughter
Coat colors tend to darken as the cat ages. Although coat texture may vary to some degree, the Tonkinese coat has a lustrous sheen and is very close lying; it feels quite soft, not unlike a mink coat. The term "mink" originally was used to refer to the lustrous sheen and silky texture of their close-lying, medium-length fur. However, "mink" is now used only following the coat color of cats who have the co-dominant Burmese and Siamese pattern genes. Natural and Blue Tonkinese tend to have soft cottony coats, Platinum Tonkinese tend to have soft silky coats, and Champagne Tonkinese have coat texture somewhere in between. This wonderful coat texture and the fact that Tonkinese groom themselves impeccably, result in Tonks requiring very little grooming.

The distinctive aquamarine eye color of "mink" patterned Tonks is one of the most unique features of the breed. No other recognized breed can claim eye color quite like it. Its true quality is elusive and can best be seen in natural light because their eyes pick up the reflection of the light. Tonkinese eye color is not a result of pigmentation, but rather a reflection of the natural light off the protein layer of the eye, which is the same way the Siamese blue eye color is created. The Pointed Tonks have sparkling blue eyes and the Solid ( or Sepia) Tonks have beautiful chartreuse eyes.

Mia - Six month old Female
Platinum (Lilac) Mink Tonkinese
a Brownie II X Aristotle Onasis daughter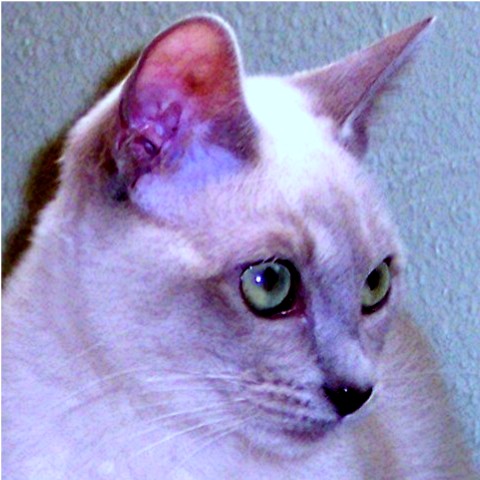 The vocalness of the breed varies. Some of them seem very vocal, a trait probably inherited from their Siamese ancestors. However, they usually have a soft melodic voice in contrast to the Siamese. Others, like many Burmese, are relatively quiet.

Tonkinese are excellent pets; they have no special needs except the love, affection, and care that all cats require. They are extremely people oriented, playful, and active cats who crave physical contact with their human owners. It has been my experience that people who haven't been fond of cats often discover they adore Tonkinese, who get along well with adults, children, dogs and other cats because of their gentle, sweet, and affectionate dispositions.

Tonks are very intelligent and active and although they can be strong willed at times they are amenable to training. It is not uncommon for them to be trained to fetch on command. They enjoy plenty of exercise and as a result are quite muscular and generally have no excess fat. The weight of the average female ranges between 6 and 8 pounds and the weight of the average male ranges between 10 and 11 pounds.

Angel II
Six month old Female
Champagne (Chocolate)
Mink Tonkinese
a Brownie II X
Aristotle Onasis
daughter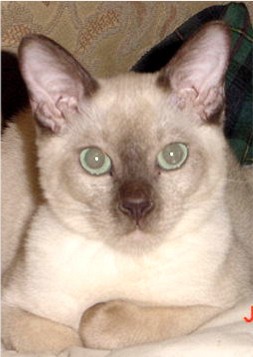 If you want a friendly cat with good social skills, a cat who is healthy, intelligent, active, and playful and combines the best characteristics of the Siamese and Burmese breeds, you may wish to consider owning a Tonkinese. This article has provided some basic information regarding this lively and loving breed. If you desire further information, or would be interested in a kitten, please do not hesitate to contact me. I have been living with Tonkinese since 1974.


| | |
| --- | --- |
| | Erick Conard's Lucky Hit Ranch currently has three fabulous Tonkinese living at the farm. |
---
Click picture below for
Erick Conard's Address Email and Phone Number Information
in a New Window
Erick's Address Email

and Phone Numbers Link
---
P.S. - I have kittens only rarely.
If you're interested in adopting a Lucky Hit Tonkinese kitten, a kitten reservation is required.
This site is still under construction.

Web Work In Progress!

Anatolian Shepherds: | | | | | | | | | | | | | | | | | | | | | | | | | | | | | |

Llamas: | | |

Other Animals: | | | |

Contact Us: | |

Lucky Hit Information: | | |