Erick Conard's Lucky Hit Ranch
Anatolian Guardian Behavior
"Guardians at Lucky Hit Ranch"
An Article printed in the Anatolian Times in 1998
demonstrating Anatolian emotional control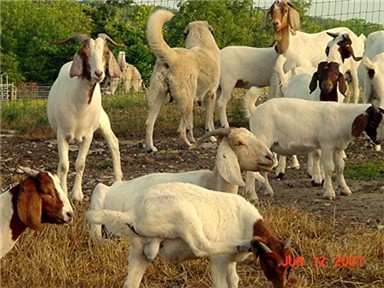 Lucky Hit Tawny Shadow on alert and guarding her flock

---
Click picture below for
Erick Conard's Address and Phone Number Information
in a New Window
Erick's Address and

Phone Numbers Link
---
The following short article was published in the Anatolian Times in Volume 3 in 1999. Pictures of both Shadow and Autumn, my two working female guardians, appear in that Volume. Autumn made the cover and is shown guarding goats. Shadow, who is also guarding goats, is on page 19, where the article appears.

The article describes Shadow's reaction to having her goats handled by someone other than me when she was eight months old. I believe this example illustrates the emotional control seen in good working Anatolians. Although Shadow initially seemed out of control with anger when she was moving Matt out of the pasture, the fact that she stopped barking and returned to the goats the moment he was out the gate clearly shows that Shadow used the force necessary to achieve her objective but was in complete emotional control of her actions. Regular dogs and guardians with poor emotional control (hopefully neutered), once stirred up, tend to continue barking out of control even though the preceived danger is past.


---
"Guardians at Lucky Hit Ranch"
By Erick Conard
Lucky Hit Ranch



This is about Shadow and Autumn, Tawny's pups. As you know, only Shadow and Autumn of the ten pups Tawny carried survived. They are absolutely wonderful females. Not only are they conformationally correct, they are amazing guardian dogs. They are fiercely protective; they don't allow anyone except me to touch my goats and they are uncomfortable if other people are on my ranch.

The other day I asked a friend, Matt, to help me load up some goats for sale. Shadow (who was eight months old) watched Matt like a hawk, following us closely while we walked around the goats. I pointed out a goat I wanted to sell and Matt grabbed it by the horns. The goat bleated and Shadow leaped toward Matt's face, furiously snarling/barking, snapping her sharp white teeth in his face. Using the weight of her 100 pound body, she hit his arms with her chest, breaking his hold on the goats horns. She whipped around behind him, snapping her teeth, snarling and barking, and quickly moved him to the gate. Once he was outside the goat area, Shadow moved back to the goats, quietly sitting between us and the goats.

I like a dog that is strong and protective without being dangerous... Shadow fits that bill perfectly!


---
I hope you found this information about WORKING Anatolian Shepherd Guardian Dogs interesting and useful and gave you further insight into the temperament of good working Anatolian Shepherd Guardians. If you are having working problems with your dog, please feel free to contact me for assistance.
---
Click picture below for
Erick Conard's Address and Phone Number Information
in a New Window
Erick's Address and

Phone Numbers Link
---

Click Picture to Return to Anatolian Main page