Although I have owned Anatolians since 1985, until recently I'd not considered keeping two or more intact adult male Anatolians together. (I consider adult males to be three or older.) Since I'm keeping two males from my 2001 litter, one male from my 2002 litter, and a fourth male I purchased in 2002 from another kennel, I've become very interested in this topic. I was advised by other breeders and Anatolian friends that I would not be able to keep intact Anatolian males together as adults. Not one person I spoke to felt it was possible. My oldest two male are only two at the time of this writing, so I'm still in a wait and see mode. However, knowing that intact males are kept together in Turkey causes me to believe that there must some way to make it work.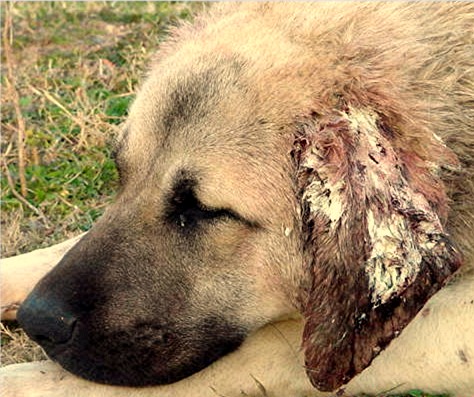 After the third serious fight when the older males were only 8 to 9 months old, I began to believe that I was not going to be able to keep my adult males together. These fights were very serious and terrifying to observe. After a certain level of intensity between the males was attained, I was completely ignored until the dogs reached the end of their fight on their own - no matter what I did to intervene. The third serious fight was the last actual fight they've had. However, when the males fight all of my dogs tended to get involved! Incredibly terrifying!
I keep my dogs all together with the goat herd except when I have to move them around to guard different groups of animals in different pastures. Even when I move them around to separate pastures, I take all my dogs for a daily "walk about" around the property perimeter. One exception is a female Anatolian in heat. I never take a female in heat because it it just too dangerous. If the males have been kept in separate pastures, they posture and growl when I first get them together. Even the females do some posturing.
Expecting this behavior, I immediately discourage this interaction using my
"Back Off" command. (See my article "Teaching the Back Off Command")
When they disengage, I say "Let's go," which they know as a command meaning we are going to begin the "walk about." Only by being the ALPHA PACK LEADER am I able to get them to disengage from each other. If I were not so strongly alpha to my dogs, I believe I would be unsuccessful in keeping them apart.
In addition, I believe it helps me that they remember how painful the fighting was. Remembering the pain (all their fights ended without a clear cut winner and lots of injuries), they now are more willing to solve the problem with posturing and my alpha command to back off.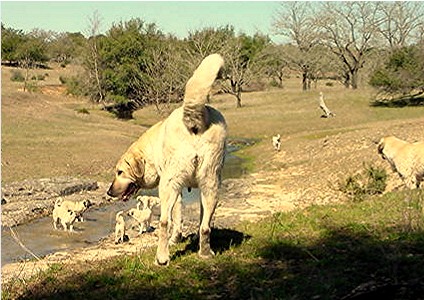 In late 2002 and early 2003, my "walk about" was taken with a total of eleven dogs - ten Anatolians and a West Highland White terrier: two adult males, three adult females, three young males (under six months old), two young females, and an adult intact Westie female. All my Anatolians tolerate my Westie beautifully now, but they had to learn to tolerate her and do so because of my alpha position. One of the young male Anatolians and one of the young female Anatolians came from other breeders and are not genetically related to my dogs. Even though they were brought in as pups, my dogs resented these genetically unrelated pups and it took work to get them accepted. My alpha female was especially resentful of the young genetically unrelated female pup and I kept them separated for several weeks (except when I was physically present) until I felt they were safe.
It has been even more difficult to get the females to tolerate each other than it was the males. Like with the males, I'm still not certain I will always be able to keep my females tolerating each other. My females' lack of tolerance peaks when they come in heat. In heat, they become absolutely vicious to the females with a lower position in the pack. As a further complication, I've had a female be submissive until she was 14 months old and then engage in a serious fight over something small, changing the pecking order forever.
Using the subtle behavioral changes in my males when the females go into heat, I generally am able to isolate the females on their first day in heat. I place the females in heat in my steel stock trailer (my only escape proof location), which I place in a pasture with no dogs. I believe that physical separation helps eliminate male behavioral problems. When I've moved my dogs through the pasture with the trailer, the female in heat in the trailer focuses on the other females and lunges and bark/growls with incredible ferocity! My females act far more deadly towards each other than my males.
Although keeping intact males together is challenging, keeping intact females together is far more challenging. In summary, I believe there is always an element of danger in keeping intact Anatolians of the same sex together!