Erick Conard's Lucky Hit Ranch: Anatolian Shepherd Page

MATERNAL INSTINCT
Shadow and the Storm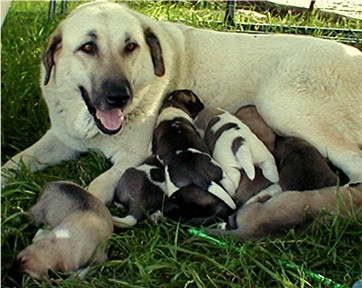 Shadow with pups she rescued from the storm

Click picture below for
Erick Conard's Address, Email, and Phone Number Information
in a New Window
Erick's Address, Email,

and Phone Numbers Link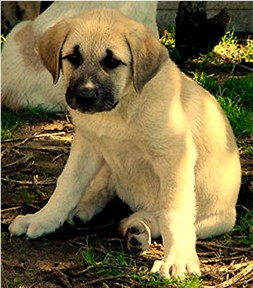 Shadow's pups were twelve days old the night the storm blew through. My friend Margaret and I had been evaluating dogs for working ability all day so we weren't aware a severe storm with high winds and hail was headed our way! I received a call from another friend warning me of the coming storm. We barely made it to Margaret's new rock house in the country when the storm hit. It was about 10:00 pm.

The lights went out and the wind was howling outside and the rain came down in blowing sheets. We saw objects flying by and heard things crashing into her house. An hour later the storm ended as quickly as it had begun. Outside was chaos. None of her dozens of chicken pens remained standing. Most pens had been blown away, leaving dozens of wet, battered chickens scattered amongst the debris.

As I stood in water up to my ankles, all I could think about was my twelve day old Anatolian pups lying on the ground under a horse trailer. I helped Margaret set up a few of the cages, picked up some of her chickens, and then, controlling the anxiety I felt building, I told her I had to go to check on my pups!

I worried all the way. I kept telling myself "Shadow is such a smart dog! She'll make certain the pups are safe!" .... but inside I had trouble believing a first time mother would know what to do in such a severe storm. Besides, if it rained a couple of inches in less than an hour the water would have flowed under the trailer, where I'd placed ten foot long, 6 inch diameter, treated posts, making a barrier for the pups.

When I arrived at my ranch, I rushed to the horse trailer I'd placed Shadow and the pups under. Huge tree limbs were down everywhere! At the trailer I didn't hear a sound. The silence was sickening! I noticed the hole Shadow had dug under the trailer was full of water and the debris on the weeds near the trailer indicated that water had flowed there two to three inches deep! Now I was really alarmed!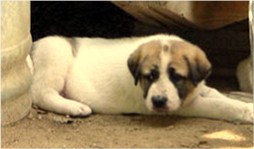 Then, from about 20 feet away from the trailer, beside my stack of large posts, I heard a couple of contented puppy sounds. Through the darkness I saw Shadow lying beside the stack of wood posts. I ran toward Shadow and saw that she was nursing the pups.... all eight of them. I counted them several times to be certain! Amazingly, they were completely dry even though she was very wet. They could crawl under the posts to be protected from the weather but she couldn't. I noticed that the posts were on a rise; the soil around the posts didn't get flooded in a heavy rain.

What a wonderfully smart dog Shadow is! The pups could barely crawl so Shadow had picked up each pup and moved it to safety. But now, still worried about their safety, I started to move the pups into the horse trailer. Then I stopped! Shadow had chosen the place to move the pups very well. I decided to let her continue making that decision. She'd proven herself worthy of that confidence!




Since I have been working in rescue and helping more people with problem guardian dogs, I've really come to appreciate what great working dogs I have! I raised my two girls in my bed from birth, which is against my ideal method of raising a guardian, and yet they are fully bonded to goats! From five weeks on my girls lived with the goats. I've never worked with either girl to modify or correct her goat interaction behavior and yet both behave perfectly with goats. I left my girls unsupervised with pregnant goats (a very BAD practice). Some of the goats aborted when the girls were six months old. A few weeks later kids were born and I was unable to be there. When I arrived my girls were waiting at a respectful distance of about 30 feet ... to watch over the newborns. Dispite the improper environment I placed my girls in, their genetics overcame that improper invironment.

My girls are especially protective of newborns. Even when a newborn kid dies and the mother wanders off, they stand over the baby. Nothing is allowed to "hurt" the dead kid. They lick it so sweetly, trying to revive it. Only after the kid begins to decay will they begin to eat the dead kid. Eating a dead kid is protective. It keeps predators from getting the idea food is near the herd.

My dogs are aggressive toward large birds flying overhead, especially around the time kids are born. My dogs follow any large bird that circles overhead, leaping in the air and barking until the bird leaves my property. Although I have a large number of hawks in the area and a newborn goat is the size of a rabbit, I haven't lost a kid.

I have come to realize that great guardian behavior is definitely a matter of genetics! Some minor modifications to a dog's behaviors can be accomplished but a dog's basic behaviors are genetically instilled. In order to understand the true quality and level of an Anatolian's genetics for working ability, the Anatolian must live in a working environment and be observed over time. (The Anatolian must be placed with sheep and/or goats 24/7 in a predator rich environment.) While you might have some clues to the Anatolian's working ability, you can't ever be certain whether or not the Anatolian is a great working dog or just a large and beautiful pet unless the Anatolian has proven it's ability guarding sheep and/or goats in a predator rich environment.





Click Picture to Return to Anatolian Main page