Why I Got My Second Anatolian,
Swan Acres Kavi Manzara (Zara)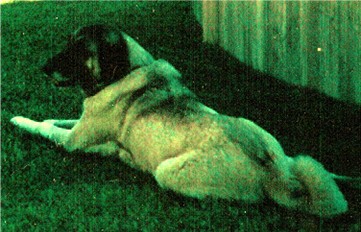 After the first year of the initial working dog adjustment period with Case I realized what a wonderful relief it was to have a "perfect guardian dog" guarding my animals and my ranch. I'd talked with other Anatolian owners and realized that I truly had something special in Case as a working Anatolian. I decided to purchase a high quality female and produce my own litter of pups. I hoped to maintain Casy's great working ability and keep a couple of the best pups I produced.
After a lengthy search for a large boned female Anatolian with a superior confirmation, purchased Swan Acres Kavi Manzara (Zara), a large, beautiful and nurturing female. Zara lived in excellent health until she was 14 years old.

Zara was the granddaughter of the Turkish import sire Kalkan who bred granddam Hisar Adana Dalgin (UK) to produce Zara's sire, Masallah Kavi Bakar

Through her dam, Masallah Coban Manzara, her grandsire is the Import from Turkey to England, Hisar Hamsin Ruzgar(UK) and her granddam is Masallah Samani Kopek.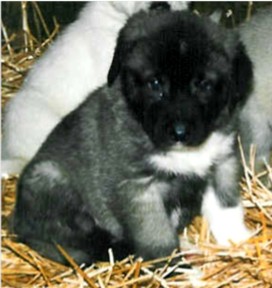 Zara was a beautiful pup! She was born black and white with a grey undercoat and she came from a litter of pups of all colors. As she matured into an adult, her silky textured black coat faded to a grizzled gray, then to a fawn with extensive black sailing, especially on her back. Although Zara's muzzle became salted with white as she moved into old age (she lived 14 years), she was blessed with a beautiful black mask that covered most of her head.
Zara loved her sheep and goats and she was especially good with young children. She was also fiercely protective of those she loved when she perceived they were in danger. When she was four, Zara produced a litter of ten incredible pups, including my famous and wonderful guardian dog, Conard's Tawny Kat (Tawny).