Erick Conard's Lucky Hit Ranch: Anatolian Page
Conard's Golden Lion (Lion)
A Second Generation Anatolian
Son of
Sire: Ebeling's Kasif (Casy)
Swan Acres Kavi Manzara (Zara)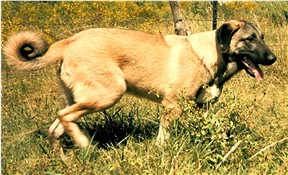 ---
Click picture below for
Erick Conard's Address and Phone Number Information
in a New Window
Erick's Address and

Phone Numbers Link
Also, you can reach me by e-mail at:
ejc@ix.netcom.com
---
My Second Generation Anatolian
Conard's Golden Lion (Lion)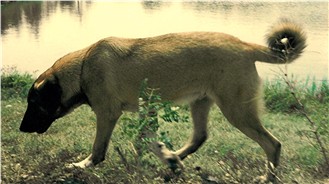 Lion had attributes I look for in a working guardian Anatolian. He was gentle with kids and weak or sick animals and he could also be incredibly aggressive when he felt his charges were being threatened!

One day when Lion was about a year old I found myself downwind of Lion and the herd as he was escorting his goats back to the barn for the evening. The sun had been down for some time and it was dusk, but almost dark... predator time. I had been sitting quietly by the path and decided to see what Lion would do when I jumped up, which I did.

Immediately, Lion's hair went up, he roared a terrifying growl/bark, and leaped toward me! Just as immediately I begin saying in a sweet but pretty frightened voice, "Lion, Lion, it's me boy!" In response, Lion immediately dropped to the ground with his head down, looking up at me with an almost embarrassed look, and began swishing his tail back and forth (tail lowered) to let me know how sorry he was he'd made that mistake! I was so pleased with his response... both the aggressive one and the apologetic one!!!

Conard's Golden Lion (Lion) - Son of Ebeling's Kasif (Casy) and Swan Acres Kavi Manzara (Zara)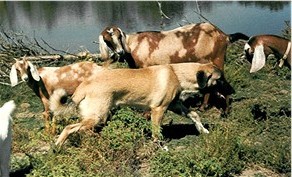 Lion was brave and aggressive and at the same time mild mannered and sweet tempered.

When a goat's foot got hung in the "V" of a tree, Lion refused to leave the goat, even to come in for supper, causing me to look for him and release the goat.

Lion was raised using my STRICTLY WORKING METHOD and was closely bonded to his goats. He had a wonderfully aloof and indifferent attitude to those he didn't know well.

Lion lived up to his name when a cougar lurked around my property for a week hoping to nab a kid or lamb. Each night Lion and Tawny moved forward alternately toward the screaming cry of the big cat. None of us slept... and after a week the cat gave up and moved on to easier prey.



---
Conard's Golden Lion (Lion)
Second Generation Anatolian Male





GSire: Pinarbasi's King
OR-162-010-011-2246
GGSire: Chomarji's Beau
BA-001-003-041-8248


---

GGDam: Pinarbasi's Tatli (Turkey)
OR-0000-0000-012-5059
Sire: Ebeling's Kasif (Casy)
EB-453-493-031-85133
May 13, 1985




Dam: Hanedan's Basbakan Bambi
NU-070-181-012-3095
GGSire: Bekci
PI-001-001-041-3248


---

GGDam: Sirin
SC-001-001-012-9001

Conard's Golden Lion

Registered with ASDCA
April 1, 1991






GSire: Masallah Kavi Bakar
OFA GOOD (ANS-114G27M
WE-784-1067-021-86132
GGSire: Kalkan (Import/Turkey)
OFA GOOD (ANS26G)
ED-000-000-011-76140


---

GDam: Hisar Adana Dalgin (Import/England)
OFA GOOD (ANS53G27F)
CZ-942-916-022-83090 - UK Reg. 1915604H
Dam: Swan Acres Kavi Manzara (Zara)
SW-1035-1026-032-88312
November 7, 1988




GDam: Masallah Coban Manzara
OFA GOOD (ANS-97G24F)
WE-019-241-012-86019
GGSire: Hisar Hamsin (Ruzgar) (Import/from Turkey to England)
OFA GOOD (ANS-19G)
CZ-930-914-011-80193


---

GGDam: Masallah Samani Kopek
OFA GOOD (ANS-28G)
WE-001-001-032-81205
---
Click picture below for
Erick Conard's Address and Phone Number Information
in a New Window
Erick's Address and

Phone Numbers Link


You can reach me by e-mail at: ejc@ix.netcom.com
---
---
---

Click Picture to Return to Lucky Hit Main Home Page

---
You can reach me by e-mail at: ejc@ix.netcom.com