Erick Conard's Lucky Hit Ranch: Anatolian Page
Conard's White King (King)
A Second Generation Anatolian
Son of
Sire: Ebeling's Kasif (Casy)
Dam: Swan Acres Kavi Manzara (Zara)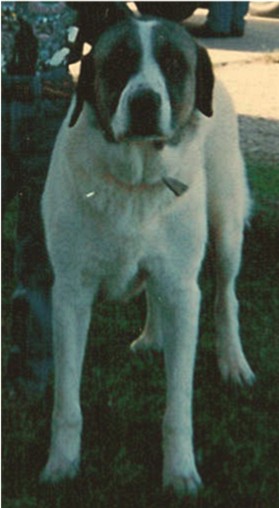 ---
Click picture below for
Erick Conard's Address and Phone Number Information
in a New Window
Erick's Address and

Phone Numbers Link
Also, you can reach me by e-mail at:
ejc@ix.netcom.com
---
My Second Generation Anatolian owned by Frank W Conard II of Sweetwater, Texas
Conard's White King (King)
King went to my brother, an Attorney living near Sweetwater, Texas, to be a working guardian for his horses, cows, and family at his beautiful West Texas ranch.

WARNING NOTE REGARDING MALE ANATOLIAN BEHAVIOR! When King was eight months old (a time of emotional change in many male Anatolians), he decided he no longer would submit to my brother's older ranch dog, a large German Shepherd mix. The older male dog refused to give up his dominant position to King. Several serious fights broke out over that next three or four days. My brother thought they would work it out and come to an understanding. However, the older male, who lost the fights, would not submit. After several days my brother went outside and found the older male dead. Male Anatolian fights should be taken very seriously.




Conard's White King (King) - Son of Ebeling's Kasif (Casy) and Swan Acres Kavi Manzara (Zara)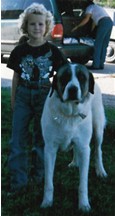 King was a working Anatolian who took his job as ranch guardian seriously.

King had the aloof personality so highly desired in working Anatolians.

King was raised using Erick's STRICTLY WORKING METHOD.

King was an exceptionally "tuff" Anatolian with a soft spot for children. He dearly loved and was particularly protective of my brother's two children, Jess and Alison. King was an amazing ranch guardian who was fearless, aggressive, and unrelenting in his pursuit of predators.



---
Conard's White King (King)
Second Generation Anatolian Female





GSire: Pinarbasi's King
OR-162-010-011-2246
GGSire: Chomarji's Beau
BA-001-003-041-8248


---

GGDam: Pinarbasi's Tatli (Turkey)
OR-0000-0000-012-5059
Sire: Ebeling's Kasif (Casy)
EB-453-493-031-85133
May 13, 1985




Dam: Hanedan's Basbakan Bambi
NU-070-181-012-3095
GGSire: Bekci
PI-001-001-041-3248


---

GGDam: Sirin
SC-001-001-012-9001

Conard's White King
OFA not listed
ASDCA Registration
AKC Registration
April 1, 1991






GSire: Masallah Kavi Bakar
OFA GOOD (ANS-114G27M
WE-784-1067-021-86132

GGSire: Kalkan (Import/Turkey)
OFA GOOD (ANS26G)
ED-000-000-011-76140


---

GDam: Hisar Adana Dalgin (Import/England)
OFA GOOD (ANS53G27F)
CZ-942-916-022-83090 - UK Reg. 1915604H
Dam: Swan Acres Kavi Manzara (Zara)
SW-1035-1026-032-88312
November 7, 1988




GDam: Masallah Coban Manzara
OFA GOOD (ANS-97G24F)
WE-019-241-012-86019

GGSire: Hisar Hamsin (Ruzgar) (Import/from Turkey to England)
OFA GOOD (ANS-19G)
CZ-930-914-011-80193


---

GGDam: Masallah Samani Kopek
OFA GOOD (ANS-28G)
WE-001-001-032-81205
---
Click picture below for
Erick Conard's Address and Phone Number Information
in a New Window
Erick's Address and

Phone Numbers Link


You can reach me by e-mail at: ejc@ix.netcom.com
---
---
---

Click Picture to Return to Lucky Hit Main Home Page

---
You can reach me by e-mail at: ejc@ix.netcom.com