Erick Conard's Lucky Hit Ranch: Anatolian Page
Conard's Silver Winter (Turk)
A Second Generation Anatolian
Son of
Sire: Ebeling's Kasif (Casy)
Dam: Swan Acres Kavi Manzara (Zara)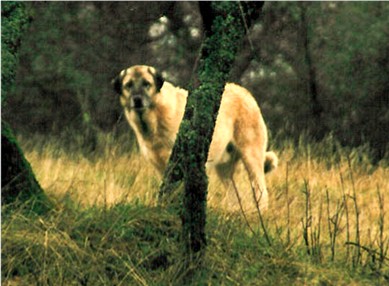 ---
Click picture below for
Erick Conard's Address and Phone Number Information
in a New Window
Erick's Address and

Phone Numbers Link
Also, you can reach me by e-mail at:
ejc@ix.netcom.com
---
My Second Generation Anatolian
Conard's Silver Winter (Turk)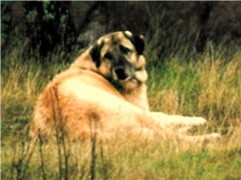 Turk has been in incredibly successful and dependable sheep and goat guardian. He was raised for the first six months of his life (while I had him) by my "Strictly Working Method" and the environment in which I place him greatly enhanced his naturally aloof and suspicious nature even further (qualities found in the most successful working guardians). The "strictly working" environment in which he was raised helped him to develop into a superior "strictly working guardian" at his new home in California beginning at the young age of six months.

Turk has been such a successful working guardian that his owner has had difficulty finding another Anatolian guardian that matches Turk's working ability. I consider this a compliment to my breeding as well as to my "Strictly Working Method" of raising Anatolian pups destined to become "strictly working" dogs.
Conard's Silver Winter (Turk) - Son of Ebeling's Kasif (Casy) and Swan Acres Kavi Manzara (Zara)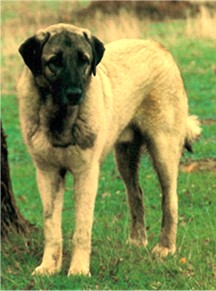 Turk, who seemed to be fearful as a pup, matured into a powerful, muscular, protector unfraid of any predator, two or four legged.

Turk attacked and drove off his first coyote not long after arriving in California at six months of age.

Turk was raised using my STRICTLY WORKING METHOD and is closely bonded to his goats. He has a wonderfully aloof and challengening attitude to those he doesn't know well.

Turk is a truly superior working dog!



---
Conard's Silver Winter (Turk)
Second Generation Anatolian Male





GSire: Pinarbasi's King
OR-162-010-011-2246
GGSire: Chomarji's Beau
BA-001-003-041-8248


---

GGDam: Pinarbasi's Tatli (Turkey)
OR-0000-0000-012-5059
Sire: Ebeling's Kasif (Casy)
EB-453-493-031-85133
May 13, 1985




Dam: Hanedan's Basbakan Bambi
NU-070-181-012-3095
GGSire: Bekci
PI-001-001-041-3248


---

GGDam: Sirin
SC-001-001-012-9001

Conard's Silver Winter (Turk)

Registered with ASDCA
April 1, 1991






GSire: Masallah Kavi Bakar
OFA GOOD (ANS-114G27M
WE-784-1067-021-86132
GGSire: Kalkan (Import/Turkey)
OFA GOOD (ANS26G)
ED-000-000-011-76140


---

GDam: Hisar Adana Dalgin (Import/England)
OFA GOOD (ANS53G27F)
CZ-942-916-022-83090 - UK Reg. 1915604H
Dam: Swan Acres Kavi Manzara (Zara)
SW-1035-1026-032-88312
November 7, 1988




GDam: Masallah Coban Manzara
OFA GOOD (ANS-97G24F)
WE-019-241-012-86019
GGSire: Hisar Hamsin (Ruzgar) (Import/from Turkey to England)
OFA GOOD (ANS-19G)
CZ-930-914-011-80193


---

GGDam: Masallah Samani Kopek
OFA GOOD (ANS-28G)
WE-001-001-032-81205
---
Click picture below for
Erick Conard's Address and Phone Number Information
in a New Window
Erick's Address and

Phone Numbers Link


You can reach me by e-mail at: ejc@ix.netcom.com
---
---
---

Click Picture to Return to Lucky Hit Main Home Page

---
You can reach me by e-mail at: ejc@ix.netcom.com