1. THE FOLLOWING INSTINCT - Being Lost

I've written an article about "The Following Instinct" full of pictures and information about this important Anatolian Working Ability, which is seen less and less often, especially at its most excellent level. It seems to me that our incredible Anatolian traits and abilities are being lost when "breeders" fail to select their breeding prospects from proven working Anatolians.

"The Following Instinct" is seen most clearly when Anatolians have a strong desire to be near their sheep and/or goats. Although it is connected to a close bonding with the herd, it is a bit different since dogs with the following instinct want to be near the herd at all times and essentially act somewhat like one of the herd... like a herd member that checks out the territory ahead for predators and protects the rest of the herd!

Anatolian breeders MUST place livestock guardian ability as their primary breeding selection criteria as was done in Turkey for thousands of years! When Anatolian "breeders" have no way of detecting this and other vital Anatolian working traits because they don't raise their Anatolians with sheep and/or goats in a predator rich environment, they might be breeding "Anatolians" but they are NOT Breed Preservationists. If an Anatolian "breeder" fails to test for the essence of the breed, superior working ability, I question the quality and level of working ability of their Anatolians. After all, how would they know the level of working ability their Anatolians have if they haven't been testing for it!

Working ability is the essence of this breed and all responsible Anatolian breeders will place working ability as their primary breeding criteria!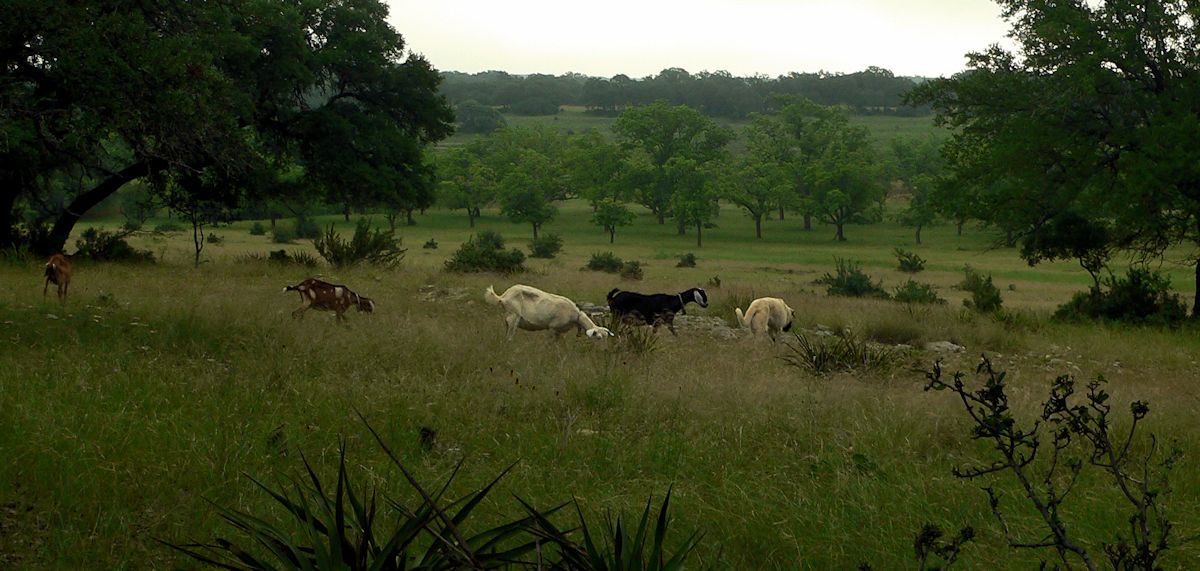 Nine month old Case Jr (Lucky Hit Leydi Case) presses forward across the pasture.

While Case Jr generally positions himself toward the front of the herd, he never allows himself to stray too far away even when exploring some scent. He moves back and forth across the path the goats will take, looking and smelling for potential problems before the goats reach that location! When he sees that the herd has changed its general direction, Case Jr immediately changes his position to continue sweeping the land ahead of the goats!

The further away Case Jr gets from the herd, the faster he returns... sometimes running back at full speed to check on the safety of his animals.

I find it interesting it's possible for an Anatolian to "follow" the herd from the front!

**************************




2. CALM DEMEANOR WITH GOATS - Being Lost

Sheep and/or goats require a certain calm behavioral style in order for dogs to smoothly fit into the herd. ALL RESPONSIBLE BREEDERS WILL INSURE THAT THEY ONLY BREED ANATOLIANS THAT POSSESS THIS CALM BEHAVIORAL STYLE! Without a calm behavior and demeanor, the Anatolian disrupts, agitates, and disturbs the tranquility of the herd, making the dog useless as a livestock guardian.

The base of this behavioral style is a CALM DEMEANOR. Successful Anatolian guardians use their calm behavioral interactions with the herd to move among the herd as if they are another sheep and/or goat. All my best Anatolians are aware of and concerned by the reaction their movements create in their herd.

For instance, in the pasture when I called LUCKY HIT'S Shadow KASIF (CASE) to me and the goats were between me and CASE, he would run toward me until relatively close to the herd. The moment he reached the distance the goats might react to his speed, he slowed down dramatically. Sometimes he walked stright to me very slowly through the herd, head down with a respectful and calm demeanor (usually if the area of the herd was small). Other times (especially if the area of the herd was large), Case kept a small distance from the herd as he calmly and smoothly trotted around the herd at a distance and speed that didn't disturb his livestock. Naturally, he kept his head lower than level to indicate to the herd his calm respect and lack of aggression. He was very aware that his presence created some amount of "pressure" on the herd and was quick to respond in ways that kept his herd tranquil.

When I go to dog shows, I still see ill-informed judges favoring Anatolians with excessive animation. Excessive Anatolian animation involves movements and behaviors livestock finds disturbing. (When judges pick Anatolians with "generic show dog behaviors rather than correct calm Anatolian demeanor, judges are NOT helping to select superior examples of the breed!!!) In response to the judges' selection for improper excessive animation, many Anatolian show-only breeders (who fail to raise their Anatolians with livestock and therefore understand very little about the behaviors and demeanor REQUIRED in livestock guardians) are picking puppies with excessive animation similar to the generic show dog behaviors picked by the ill-informed judges! Show-only breeders - if you continue picking for improper behaviors and demeanor you will ruin the breed you say you love!!!! And when people buy your hyper-active Anatolian pups for livestock protection, the pups will NOT fit smoothly and correctly into the herd!

Twenty years ago when I went to judges education seminars (in the early 2000's) I saw this happening and expressed my concerns to ASDCA club officials regarding this dangerous and inappropriate selection process. It is vital that the ASDCA (the AKC parent club) increase the pressure on AKC judges to STOP favoring the selection of inappropriately active, high energy Anatolians! It might look pretty and "showy" but sheep and goats HATE IT! Any and all behaviors not conducive to excellent livestock interactions must be selected against ... especially at dog shows since dog shows promote themselves as helping breeders select potential breeding animals!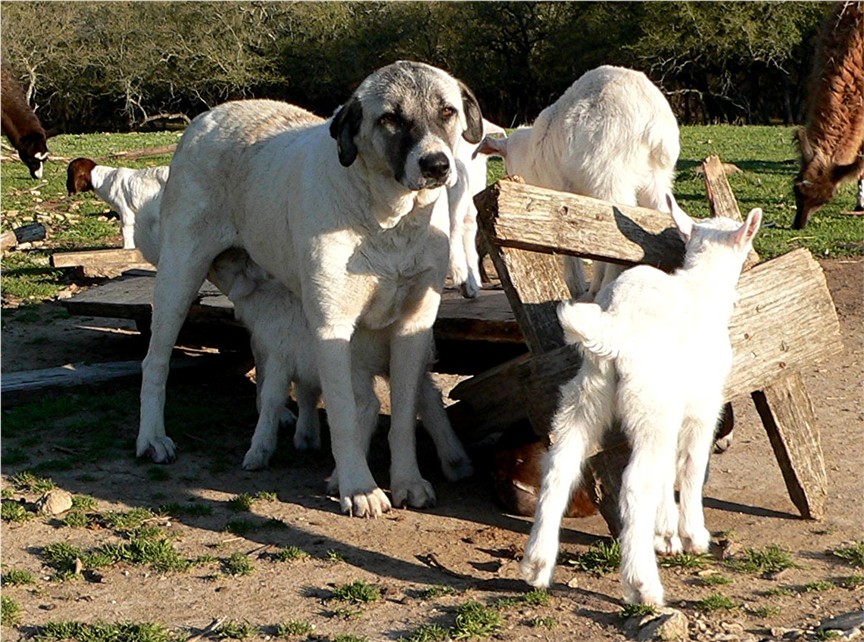 Young Guzel (Cerulean Lexa Guzel of LUCKY HIT) inspires goats to love her through her calm demeanor.

Even as a puppy, Guzel had a calm, reassuring demeanor around her goats. Because of this demeanor, goats loved Guzel and loved being near her. When a goat was having kids, Guzel quietly lay down about 15 feet from the goat and watched over the process, making the goat in labor feel quite secure.


***************************


3. CLOSE BONDING TO GOATS - Being Lost

Every Anatolian has its own unique personality... its likes and dislikes. Some are rather indifferent toward goats (not so good for a guardian) while others just seem to enjoy being near goats (excellent for a good guardian). So when a "breeder" selects an Anatolian for breeding because it has been winning big at dog shows but was too "valuable" to be raised with sheep and/or goats, the "breeder" has no idea regarding that dog's level of bonding and affection toward its herd or any of the many different working traits, behaviors, and demeanors required in a livestock guardian. To me, breeding Anatolians without testing them for working ability, the essence of the breed, is breeding irresponsibly!

It is vital that, generation after generation, Anatolian breeders select their breeding Anatolians only from those dogs who express the greatest joy being close to their sheep and/or goats! In my Anatolians I can see how the desire to be near their goats is passed down through the generations. And the Anatolians with the greatest love of their sheep and/or goats tend to have pups who also have a strong desire to be with and nurture their herd.

I saw this strong desire for close bonding with goats expressed in LUCKY HIT Shadow KASIF (CASE), out of the first litter from my foundation female, LUCKY HIT'S Tawny SHADOW (SHADOW), who had always loved being near her herd. As usual, I placed the pups out in the pasture with the goats shortly after they had opened their eyes. When the weather was chilly, they grouped together in a puppy pile. But somewhere around three and four weeks of age, I couldn't find CASE in the puppy pile. Instead, I'd find him a short distance away snuggled up to one of his favorite goats! The goat appeared as pleased to have CASE nestled against her as he was!

I know to always look for those young pups that seek out the goats as their sleeping buddies as potential replacement Anatolians. The "goat snugglers" have always demonstrated the highest levels of superior working ability, even among Anatolians with excellent working ability! As always, only Anatolian breeders who raise their pups with sheep and/or goats in a predator rich environment have the opportunity to look for this key behavioral indicator of superior working ability!!!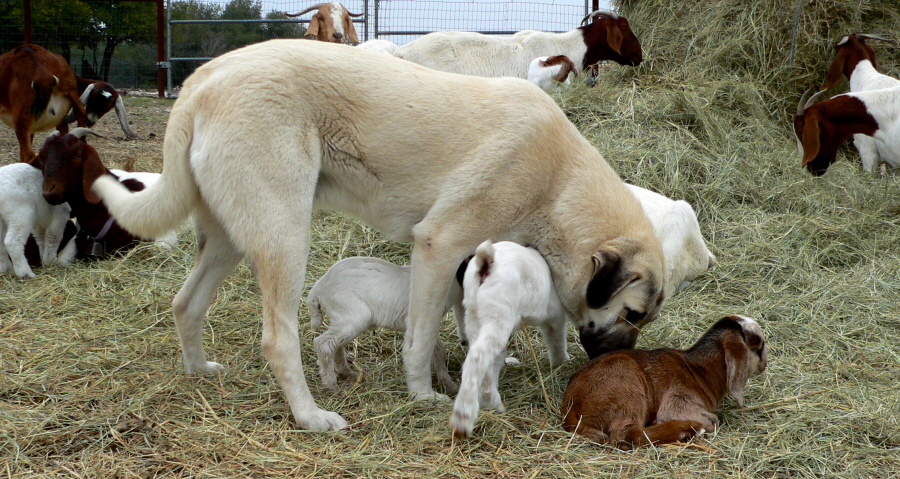 CHAMPION Ashley Manor DIVAKIZ LUCKYHIT (KIZZIE),
daughter of CHAMPION Birinci's YAHSI (YAHSI) and CHAMPION LUCKY HIT'S Shadow DIVA (DIVA),
calmly and smoothly moving among her goats to check on their well being.
Kizzie loved her goats dearly and would have given her life to protect them from harm!

****************************


4. KNOWING HOW TO PASSIVELY STOP GOAT AGGRESSION - Being Lost

One of the most useful skills an Anatolian can possess is the ability to passively stop goat aggression. This ability displayed at a high level is an indicator of truly superior working ability. Even among otherwise excellent working Anatolians, this knowledge might be missing. Like all Anatolian working responses, it is a brain function that has been instilled genetically - the Anatolian either has the skill or lacks the skill!

The pup in the picture below LUCKY HIT'S Shadow BEAU (BEAU) definitely has this ability. Since this behavior is a brain function and genetically instilled, it can be seen in even very young Anatolians. I've seen it in pups whose eyes have only been opened for a few days! Notice that BEAU has dropped to the ground to show his lack of aggression - he is being respectful and submissive to the goat, who sees the response to her head tilt and is calmed and reassured! Responsible Anatolian breeders will look for this valuable working brain function and breed for it. The breeder must look for this behavioral trait as well as many other sometimes subtle signs that indicate superior working ability in all Anatolians being considered for breeding.

A more recent pup that goes back to LUCKY HIT genetics is CEDAR RISE Aiyla MANYETIZMA (YETI) out of CHAMPION CEDAR RISE Sonra AIYLA of LUCKY HIT (AIYLA) and BISS CHAMPION TIMARU BEKCI AYISI (BEAR), both proven working Anatolians!

As I write, he is only about four months old. Even at 2 1/2 months he clearly demonstrated he has superior working ability. He lives in Texas with a large herd of registered Spanish goats that are rather tough... and he loves them.

When YETI sees some of his goats grouped together he loves to walk into the middle of the group. YETI enjoys being surrounded by his goats! He loves these goats even though some of the tougher nannies, who are familiar with Anatolians, will seek YETI out for discipline and punishment just to be certain he knows that goats are the boss! YETI never acts fearful and responds with a variety of passively submissive responses that calm and reassure the nannies.

YETI'S owner has taken many videos of this exceptional working pup and the pup's clever strategies to calm his beloved goats. YETI repeatedly demonstrates a wide array of passive strategies that allow him to be accepted and ignored by rather dominant and relative aggressive goats! One of YETI'S favorite methods is to reach down, take a bite of grass, and chew on it looking elsewhere as the goat approaches. He has his head tilted away and lowered, signaling "I am no threat; just another grass eater!" In a pinch, YETI will also use a small stick or twig in the same manner. This technique generally works like a charm to calm and reassure his more aggressive nannies.

Another clever technique of YETI'S is to stand still in a passive, non-aggressive manner, head lowered a bit. I've seen videos of him waiting until the very last minute to quickly move his head to the side to avoid a head butt. YETI waits until the goat's head almost hits him. At the last second, YETI moves the front part of his body about a foot to the side, causing the goat to miss his head. Rather than running away, YETI calmly stands quietly and passively, head down, in the new location. The aggressive goat appears confused (because the move is neither aggressive nor submissive). Then this pushy goat seems to decide that the pup isn't actually a threat and moves on. It is thrilling to watch the skill this pup has demonstrated repeatedly over time in calming and reassuring his more aggressive goats!!!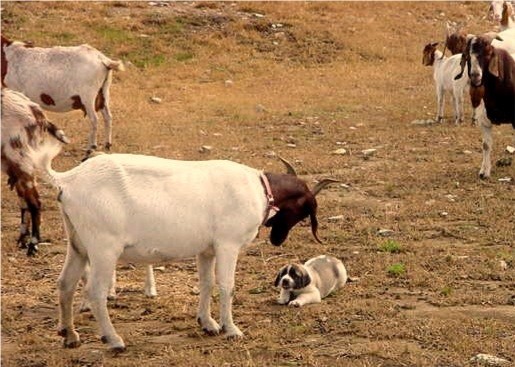 LUCKY HIT'S Shadow BEAU (BEAU) as a young pup showing submission to calm a goat.

It is vital that all RESPONSIBLE Anatolian breeders only breed PROVEN SUPERIOR WORKING ANATOLIANS. Working ability is the essence of the breed and breeding for traits antagonistic to superior working ability will ultimately ruin the lines of those breeders unconcerned with Anatolian Breed Preservation! While show titles provide some information regarding an Anatolian's conformation, they provide NO INFORMATION regarding the essence of the breed - Anatolian working ability.


******************************


5. ALOOF AND SUSPICIOUS NATURE - Being Lost

Another excellent indicator of superior working ability is revealed in Anatolians exhibiting an ALOOF AND SUSPICIOUS NATURE. Sadly, this excellent working trait is discouraged and disliked by many "breeders" who'd rather not deal with aloof dogs who are suspicious of strangers. Ultimately, breeding for Anatolians that are friendly and accepting will result in the overall decrease of this desirable working trait.

Quite a few show-only "breeders" have described their ideal Anatolian as friendly to all. This makes an Anatolian much easier to show than if the Anatolian had correct temperament with an aloof and suspicious nature. I question a "breeder's" devotion to and love of actual Anatolians when a "breeder" decides to change the basic nature of the breed for their own personal convenience! Wouldn't it be wonderful if these "breeders" moved to a breed whose temperament is actually supposed to be friendly to strangers rather than ruin correct Anatolian temperament?

When these "breeders" desiring friendly Anatolians describe their ideal Anatolian, I picture a wonderful, friendly, and loving Golden Retriever. Goldens were bred for many of the traits some show-only breeders describe. That's great for Goldens but inappropriate for Anatolians, a breed bred for thousands of years for superior working ability guarding sheep and or goats in a predator rich environment! An aloof and suspicious nature works best in this situation!

All of my truly superior working Anatolians had this characteristic in one form or another. They also trusted my judgement (more or less) and after I interacted amicably with a stranger, then introduced my Anatolians, my Anatolians generally calmed down and allowed the stranger to accompany me. Most of my dogs (all of the best ones) didn't allow the stranger to enter areas without me entering also. They easily accomplished this task with warning barks and posturing. It is crystal clear to everyone these Anatolians are saying, "I don't know you! Erick isn't with you! Don't come in!" And I've never seen anyone stupid enough to ignore this Anatolian display telling strangers to stay out!

Some people have asked why this particular working trait is necessary. For me, it is because I don't like people coming on my property uninvited, especially if they are intent on stealing a few goats. Also, I can sleep peacefully knowing that my dogs won't allow a stranger on my property! After all, if someone is lurking around my property, uninvited and especially at night, they are clearly up to no good!

Many of my dogs have such excellent boundaries that when a stranger comes too close to the gate and then begins talking sweetly to the dog, the dog becomes even more agitated. The dog knows the person is a stranger and seems to resent the fact that they are being treated as if the person actually knows them! They cannot be fooled into letting even a sweet-talking stranger on the property!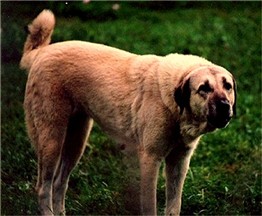 Conard's Tawny Kat (TAWNY) standing between her sheep and goats and the photographer
This photograph was taken with a telephoto lens at a high magnification!

Tawny loved me dearly but was suspicious of everyone else and watched them like a hawk! I always knew I was completely safe when Tawny was there! She wasn't actively unpleasant to others I'd accepted. She was very aloof and distant, as appropriate for Anatolians with correct behavior. Too friendly with stranger isn't correct in Anatolians. If you want friendly dogs, get another breed!


***********************************



6. OFF-TERRITORY SHUT DOWN - Being Lost

In superior working Anatolians, Off-territory shut down is a must! This doesn't mean the Anatolian stops all protection. It means that the Anatolian recognizes that it is off its territory and the rules are now a bit different. When off-territory, correctly bred and raised Anatolians are calmer and more accepting of unusual situations and people they encounter. It is a trait that makes them easy to take to the vet and it is what allows excellent working Anatolians to be taken to a dog show. However, it is important to remember that, even when off-territory, a correctly bred Anatolian sees every situation as either "protect" or "protection not required!"

I find that off-territory shut down is especially useful when I take my Anatolians to the vet. An Anatolian with excellent off-territory shut down will be calm and observant. Of course, it is important for the owner to have an excellent relationship with their Anatolians. Excellent repore allows an Anatolian to look to the owner for cues regarding behaviors. A calm and secure owner leads to a calm and secure off-territory Anatolian.

Judges must be able to see the difference in behavior in a shut-down Anatolian and an Anatolian that is just overly friendly and not a good guardian. Many can't or don't seem to actually care. A judge's inability to select for correct off-territory shut down and who instead selects an Anatolian that lacks the correct reserved, aloof, and suspicious nature is NOT helping breeders select their best breeding prospects. Of course, excellent breeders don't need a judge to tell them what qualities their Anatolians have or lack. An excellent breeders understands the breed in far greater detail than most judges! To fully understand Anatolians and be an excellent breeder, an Anatolian breeder MUST raise their Anatolians 24/7 with sheep and/or goats in a predator rich environment! Otherwise, they are missing 95% of the factors that went into the development of the breed!

The Anatolians' view of the world sees every action as needing protection or not. This viewpoint means that even when off-territory and shut down, if the Anatolian actually believes his owner is being threatened, the Anatolian will go into a series of protective behaviors. First, the Anatolian will stand slightly in front of its owner, generally at a slight angle, so that the potential problem has to go through the Anatolian before reaching the owner. The Anatolian generally waits until the threat (an aggressive dog?) reaches it and actually attacks the Anatolian. The attacking threat will be eliminated one way or another, even though the Anatolian is off-territory and shut down!

My experience is that while my Anatolians are behaving correctly, other improperly handled dogs can still become aggressors. Their unwarranted aggression may result in them paying the ultimate price. People who allow their unleashed dogs to attack an Anatolian standing on lead calmly by its owner tend to become quite angry after their aggressive dog attacks without provocation and then is killed.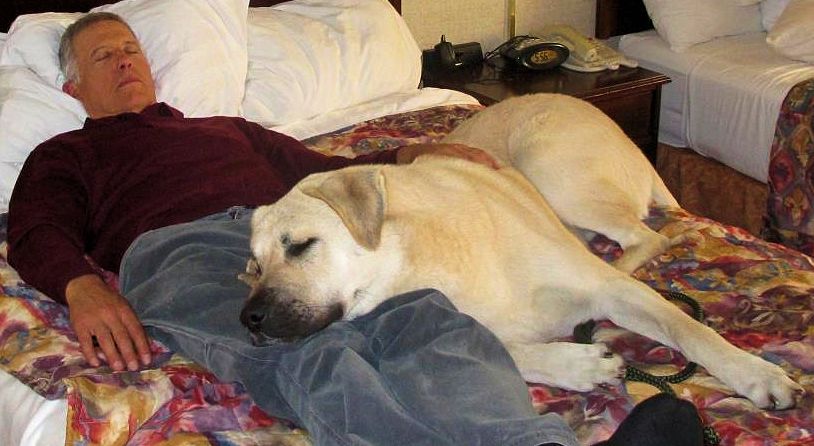 GRAND CHAMPION LUCKY HIT DivaKiz Rondo Alla Turka of CEDAR RISE
at the October 15, 2012 Anatolian National Specialty resting comfortably.

Rondo's excellent off-territory shut down allowed him to be calm and easily handled at dog shows, although I hear that Rondo actually prefers to be in the pasture guarding his sheep at Cedar Rise Anatolians in Virginia! Rondo is an excellent stud dog with superior working ability packaged in a powerful, muscular, strong-chested body!

Rondo's dam, CHAMPION Ashley Manor DIVAKIZ LUCKY HIT (KIZZIE) was the #2 AKC BREED FEMALE Anatolian in 2007.
Rondo's sire, CHAMPION LUCKY HIT Bethany NAZIK (NAZIK) was AKC's TOP PRODUCING SIRE for 2012.
NAZIK's Sire: LUCKY HIT Shadow Kasif (CASE), was AKC'S TOP PRODUCING ANATOLIAN MALE FOR 2009 AND FOR 2011, and
NAZIK's Dam: CHAMPION INANNA Bethany Bay of LUCKY HIT (BETHANY), was AKC'S TOP PRODUCING ANATOLIAN FEMALE FOR 2009 AND FOR 2011.

Every one of the above mentioned dogs were proven superior working Anatolians who lived 24/7 with goats or sheep in a predator rich environment! All Top Show dogs could be and should be tested for the quality and degree of their working ability, something responsible Anatolian breeders are doing. However, many (maybe most) show-only breeders are not testing or proving their Anatolians at all. Most even fail to only breed their unproven Anatolians to proven superior working Anatolians, something every one of them could do if they actually cared about the essence of the breed! Wouldn't it be wonderful if the breeders of these untested and unproven show-only Anatolians were as dedicated to Anatolian Breed Preservation (the preservation of the working traits and qualities bred into Anatolians over thousands of years) as they appear to be to dog shows and showing dogs!

***********************************



7. RESPONDING TO OWNER'S VERBAL CORRECTIONS - Being Lost

Anatolians tend to be independent and do what they believe is correct for the situation. Luckily, a correctly bred Anatolian raised in a good environment does tend to do the right thing. However, puppies are in the learning stage and need to be receptive to corrective input from their beloved owner. I favor those pups who immediately stop what they are doing and show submission (fall down on the ground or at least lower their head to the ground) when I speak to them in a harsh tone.

Of course, if a pup hears harsh tones all the time, I doubt they would pay much attention to harsh tones. The pup needs to hear lots of loving and sweet tones most of the time in order to provide the best response to a harsh tone when the pup is doing something wrong. (And a short time [15 seconds] after the harsh corrective tone followed by the pup's submissive compliance, I call the pup to me warmly to pet and love on the pup. It seems to me that when I show the pup that I still love him, he will try that much harder to follow my guidance!)

Anatolians correctly bred for working have a built in understanding of the working behaviors that are right and are wrong. It's important for the owner to learn correct and incorrect working behaviors. If the owner engages in all kinds of corrections to all sorts of activities that have nothing to do with correct working behaviors, the pup may begin to ignore the owner's "crazy" ideas. However, a harsh tone when the pup is behaving incorrectly in a working situation is something that the pup understands! And a good working pup will immediately respond to this type of correction with a display of submission!

I am referring to working-oriented verbal corrections when I expect my pup to respond to my verbal corrections. I know that as the pup ages, they tend to make their own decisions regarding how to respond. Just another reason why maintaining your Anatolian pup in an excellent self-corrective working environment is essential in the development of your pup!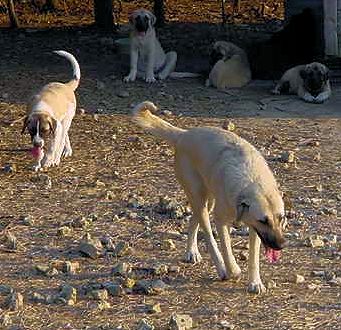 LUCKY HIT'S Tawny SHADOW (SHADOW)
showing compliance through her ear position

When SHADOW wanted me to know she was happy and doing her best to comply with something I'd told her to do, she'd twist her ears and fold them back. I always found it so sweet. Of course, being an Anatolian, if she thought I was wrong, she'd basically ignore the command. The verbal corrections she almost universally responded to as I asked had to do with any behavior I considered improper with her goats!




***********************************



8. WILLINGNESS TO "STAND FIRM" TO PROTECT THEIR CHARGES - Being Lost

I never cease to be amazed when I hear an "Anatolian breeder" say, "I am selecting for softer Anatolians." To those "breeders" I suggest moving to a different breed, a breed known for being "soft" (ie. useless as an effective livestock guardian). I have serious predators here and I can't afford to keep "soft" Anatolians - Anatolians so weak they allow the predators to do as they will with my animals!!! I'm sure that raising softer Anatolians makes managing them easier, especially at dog shows and in some home companion only situations, but the softer the Anatolians the more likely they will lose some or all of their livestock to serious predators!

Another phrase some Anatolian "breeders" use is "My Anatolians are NOT dog aggressive!" Since major predators of sheep and/or goats are coyotes and domestic dogs, a livestock guardian that is NON-DOG AGGRESSIVE (stands back and allow invading dogs and coyotes to kill their livestock) is worthless as a guardian! A certain level of dog aggression tempered by superior judgement is required in Anatolians. Responsible Anatolian breeders select their Anatolians for superior judgement. When the invading dog is smaller and submissive, the superior working Anatolian will know the small submissive dog is no threat to the Anatolian's sheep and/or goats! But the superior Anatolian knows that the dominant and larger invading dog and/or coyote exhibiting aggressive behavior with heightened predatory interest in the sheep and/or goats requires subduing!

Of course, when a "breeder" doesn't keep their Anatolians 24/7 with sheep and/or goats in a predator rich environment, that breeder may have very little idea of the actual level of protection their Anatolians possess! Just because a relative demonstrated proven working ability doesn't mean that dog has it!

(SHOW-ONLY BREEDERS!!! PLEASE TAKE SPECIAL NOTE OF THIS ESSENTIAL ANATOLIAN TRAIT!)

If you are looking for a livestock guardian to protect your livestock from serious predators, you might remember to be wary of the "breeder" who says they breed for "soft" Anatolians who are "not dog aggressive"! Soft and non-dog aggressive might sound good to you... if so, I trust you don't really care whether or not your sheep and/or goats are slaughtered!

Also, if you want a "soft" dog you are better off picking a breed known for being "soft." Anatolians were bred for thousands of years to protect livestock from large and serious predators. Responsible Anatolian breeders are aware of that fact and breed for Anatolians true to what has been the essence of the breed for thousands of years - SUPERIOR WORKING ABILITY!!!

"SOFT DOGS" by definition cannot have superior working ability!

Over the years I've heard from people who have purchased some of these "softer" Anatolians. "Soft" Anatolians are the dogs that let strong predators kill and maim their charges without fighting back to protect their charges with everything they have! Since I breed for strong Anatolians, I don't really have experience with the problem of "soft" Anatolians who allow predators to kill their charges. Please remember, "strong" doesn't mean viscious or out of control. "Strong" means a dog that doesn't run away and/or give up when serious predators arrive intending to harm or kill the Anatolian's animals. Strong involves a certain level of internal strength and determination geared toward protection!



I remember reading a Turkish shepherd's idea regarding "soft" Anatolians. He said that

1. If an Anatolian turned and ran from a predator, he killed that Anatolian that day. (I would amend that philosophy to neutering that dog.)

2. If the dog fought but was killed (was it too "soft" to survive the fight?), the dog's death automatically removed those genes from the gene pool.

3. If the dog acted ferocious and frightening and the predator left, that dog lived and remained in the gene pool.

4. The most valued guardian was the one that fought serious predators (predators unwilling to be "scared" away by a ferocious display) and then killed or fought-off the predators without losing a single animal!


This most valued Anatolian IS CERTAINLY NOT a "SOFT" Anatolian!



I personally breed for Anatolians that have superior discernment, superior judgement, and a willingness to do anything to protect their charges. I look for an Anatolian with a balanced mind who is sweet and loving with me and anyone I say is OK but who can instantly assess a situation correctly and take the correct protective action. A kennel that looks for softly sweet Anatolians to breed will eventually ruin their dogs' working ability. Anatolians wouldn't be the first breed that American "breeders" have ruined!

If you need protection for your sheep and/or goats, instead of looking for "soft" Anatolians, look for Anatolian puppies whose sire and dam have proven they possess superior discernment, superior judgement, and a willingness to do anything to protect their charges. These Anatolians will NOT be "soft" dogs!




Lucky Hit's Shadow Kasif (CASE) at 13 still successfully guarding and protecting his charges in the big pasture
CASE is amazingly sweet and loving to me but he is anything but soft!
My most serious predators are pig packs, coyotes, and bobcats and the rare appearance of a cougar.
I could not have goats at Lucky Hit without having the protection of serious and strong (NOT SOFT) Anatolians!

***********************************



9. STRONGLY NURTURING WITH GOATS AND/OR SHEEP - Being Lost

To the same degree an Anatolian requires internal power and ferocity in order to successfully do its job of protecting livestock, an Anatolian also needs incredible nurturing urges to be safe around weak and helpless livestock and also to feel heightened protective urges toward newborns!

These behaviors (ferocity and nurturing) can be viewed as incompatible behaviors, but I believe that they may stem from similar motivations. A new mom has both incredible protective and incredible nurturing instincts. New moms know the difference between their newborns and an animal intent on hurting their newborns! It seems to me that Anatolians have incredibly heightened nurturing instincts directed toward protecting and loving their charges!

Anatolian breeders can test for this vital nuturing instinct only by raising their Anatolians with sheep and/or goats in a predator rich environment. Other methods might give hints and possibilities, but only when an Anatolian is actually raised with and lives with herd animals can the depth of this vital trait be observed and evaluated!

In the Freeze of February, 2021, I saw how important it is for an Anatolian breeder to always place working ability as their primary selection criteria. Unfortunately, I had timed the birthing period of my goats to begin the day after the temperature dropped below freezing. For six days the temperature ranged between zero degrees F and the low 20's with six inches of unmelting snow. No one was prepared for this kind of weather here in central Texas, where we've gone as long as five or six years in a row without going below freezing. My electricity went out, taking out my heating and my water froze also. A good friend, who never lost heating or water, invited me to use his spare room in town. It got so bad that for three days I was literally unable to make it to my ranch to feed my animals. Luckily, I had round bales and supplement tubs for most of the animals, and alfalfa bales out for the poultry. The dogs had nothing to eat... except all the baby goats that were being born and quickly froze to death from the extreme cold.

As good Anatolians should, my dogs ate the dead babies to clean them up so predators would not be attracted to the area. Three Anatolians were just large pups I had intended to introduce to birthing for the first time. One was almost 10 months old and two were almost 14 months old. But I wasn't even there and they weren't given food for almost four days. I know I have excellent working Anatolians, but I still worried that their first introduction to birthing included eating all the dead babies! Had this ruined them?

Finally, on day seven the temperature went above freezing (to 47 degrees F) and the sun came out for a while. Another kid was born, but this time, with the temperature above freezing and the kid lying in fresh hay in the sun, the kid dried out! It was great seeing a living kid. At six, the clouds were back and the temperature was dropping rapidly. Just before I drove off, I saw one of these young dogs wrapped around the kid and the kid's mom standing above, occasionally leaning down to smell her kid. Mom, kid, and dog were all calm and happy. But still I worried ... would eating all those other dead newborns affect this pup?

I'm happy to report that every kid born (16) after that day lived and are, as I write, three months old. (It's amazing how much better kids do in warmer weather!) The pups were in the pasture with the birthing mothers and have not played with or chased the kids or shown any desire to eat them! These pups were produced from Anatolians selected for superior working ability for many generations and provided the correct early environment with excellent training goats since they were weeks old!

When a "breeder" is so unconcerned about maintaining superior working ability that they fail to breed only proven superior working Anatolians, I know that over time the working ability in their lines is decreasing. Anyone looking for an Anatolian to guard their sheep and/or goats successfully needs to find those breeders dedicated to superior working ability to have the best chance of obtaining an exceptional working Anatolian. Breeding for therapy Anatolians, obedience Anatolians, and show Anatolians isn't breeding for the essence of the breed. In some ways, it is selecting for traits contrary to excellent working ability! Only the breeder who requires superior working ability with sheep and or goats in all of their breeding Anatolians is breeding for the essence of the breed!

A breeder aware of the importance of testing for amazing nurturing abilities with sheep and/or goats in a predator rich environment with the willingness and knowledge to help you with any developmental problems that show up as the pup matures might be your best bet when looking for an Anatolian pup to guard your sheep and/or goats!!!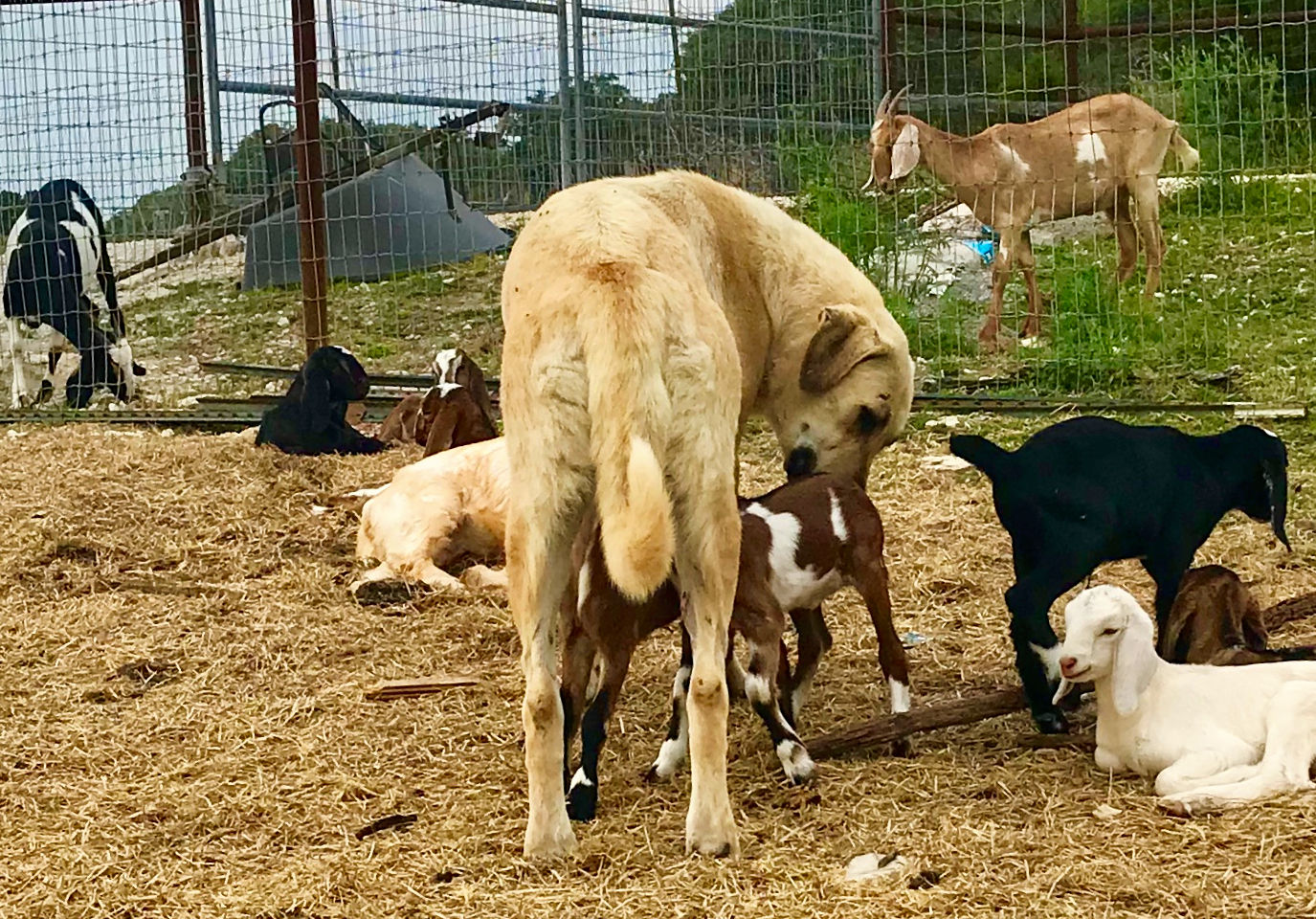 LUCKY HIT Sonra GOLGE (GOLGE) of CEDAR RISE
taking care of young kids with sweetness and great tenderness

As fierce and powerful as Anatolians are required to be, they are also required to be amazingly kind, sweet, tender, and nurturing with the babies and sick sheep and/or goats. Both aspects, conflicting as they are, are required in superior working Anatolians. And both traits can only be evaluated when Anatolians live 24/7 with sheep and/or goats in a predator rich environment!

***********************************


10. STOIC NATURE - Being Lost

Vets told me they were amazed seeing how stoic my early dogs were to pain. One vet even thought my dog had lost feeling in his feet because when the vet pinched between his toes, the dog had no visible reaction. The vet became so aggressive in his pinching that I told him to stop. I knew my Anatolian was feeling the pain no matter how stoicly he ignored it. And in this off-territory situation my dog, who had appropriately shut down, trusted me to keep him safe! Always remember that the owner is ultimately responsible for keeping their Anatolian safe from people who may have never even heard of Anatolians and don't understand the breed, including vets!

The reason Anatolians need to stoicly ignore pain is simple. They need to be able to continue protecting their charges no matter how much damage their body is taking in the process. As I've said before, in Turkey, Anatolians who stopped fighting and allowed their charges to be killed died that day at the hands of the Turkish shepherds! Turkish shepherds couldn't afford to feed a dog who was unwilling protect their herd with everything the dog had, including its life. Having a stoic nature was literally a life and death matter for Anatolians in Turkey!

I am able to most clearly see the incredible stoic nature of my Anatolians when I am taking care of their injuries, including sewing up large tears in the skin while my Anatolian lays quietly for the process. (Naturally, if you haven't done the early work of developing trust with your dog, you may be less successful than I have in this situation!)

Perhaps the most dramatic understanding of their stoic nature was provided after porcupine encounters. A number of my Anatolians have come in from the pasture with porcupine quills in and all over their mouths and muzzles. Every one of my Anatolians plagued with porcupine quills has allowed me to pull out the quills myself. Most encounters resulted in less than 100 quills.

The largest number of quills I've ever had in one of my Anatolians was somewhere above 1,200 quills in CHAMPION ASHLEY MANOR DIVAKIZ LUCKY HIT (KIZZIE) and 600+ quills in LUCKY HIT'S Shadow KASIF (CASE). These Anatolians are two of my all time best working Anatolians. They both lived for 13 years. CASE is KIZZIE'S uncle.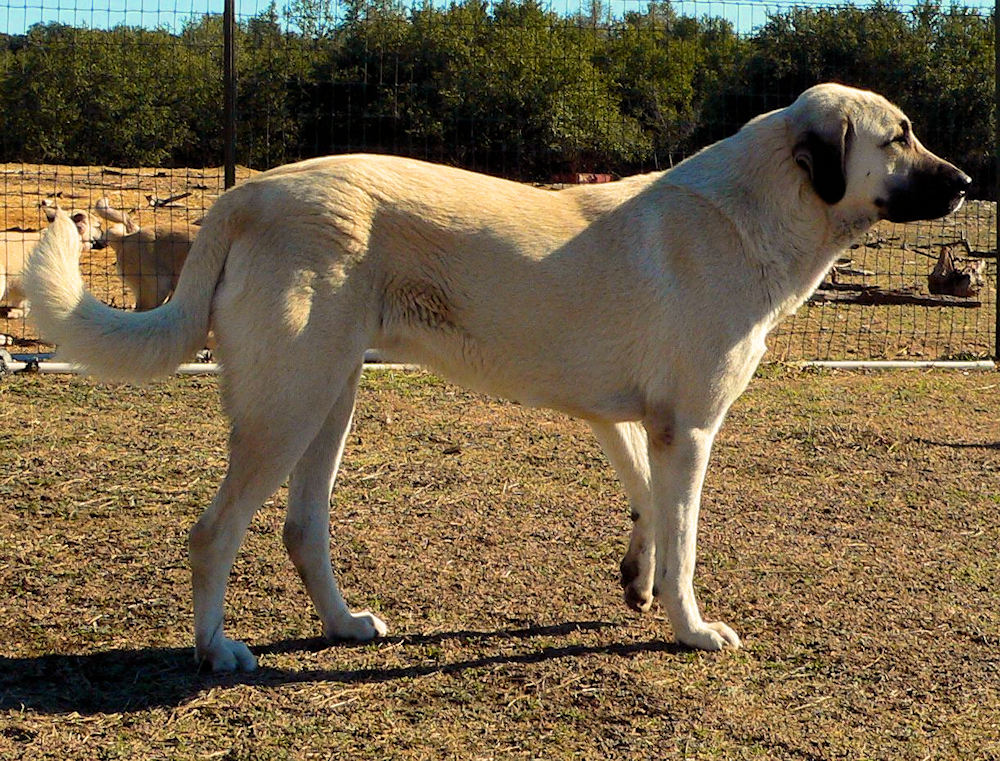 CHAMPION ASHLEY MANOR DIVAKIZ LUCKY HIT (KIZZIE)
was an exceptional Anatolian who took care of her charges with much love

When I found Kizzie with porcupine quills in and on her mouth and muzzle, I spent 4 and 1/2 hours removing around 1,200 quills. When I began, I removed the quills from Kizzie's tongue first because there weren't many quills on her tongue (about 30 or so). She cooperated with me to some extent but was hesitant and resistant until most of her tongue was cleared of quills.

Then Kizzie closed her mouth and felt her tongue - no quills there. Immediately, I saw in her eyes that she understood what I was doing. At that point Kizzie cooperated with me completely, attempting to be as still as possible so I could remove the remaining quills! Only an amazing and incredibly stoic dog could lay still for 4 1/2 hours as porcupine quills are pulled out one at a time!!!



***********************************

ADDITIONAL WORKING TRAITS IN JEOPARODY





a. SECURES THE PASTURE FROM HUMAN INVADERS AS WELL AS ANIMAL INVADERS - If the Anatolian allows a stranger in their pasture, when the stranger trys to leave the Anatolian refuses to let that stranger leave and pens them in place. The Anatolian tends to hold the stranger in place against a fence or structure and keeps them standing there until the owner returns to decide what to do next. "Breeders" who insist their Anatolians be as friendly as Goldens are destroying this excellent working trait!

b. RESPONSIVE TO OWNER'S ASSESSMENT OF STRANGERS (TO A POINT) - The Anatolian appears scary and aggressive with ferocious bluff charges, barking, and growling when a stranger approaches the gate with no owner present. However, after the owner approaches and tells the Anatolian in a calm voice that the person is OK and then speaks nicely with the stranger, the Anatolian is polite and allows the stranger through the gate. The Anatolian gets the persons scent and as long as the owner approved stranger is polite, the Anatolian doesn't show aggression. However, I tell people that they must not raise their arm toward me in an aggressive manner or speak in an aggressive or hateful voice (even when telling a story) since the Anatolian might interpret these things as aggression toward me! (If the Anatolian believed the stranger was being aggressive toward me, my expectation is that the Anatolian would move in front of me, between me and the stranger, and, depending on the level of aggression by the stranger, would stand waiting and watching or escalate to very terrifying bluff charges!)

Many "show-only breeders" don't like this correct level of suspicion and protection in their Anatolians because it makes an Anatolian more difficult to handle in show situations, especially when a judge is ill-educated regarding the breed. Too many judges approach correctly bred Anatolians with improperly assertive demeanor and then are upset when the Anatolian responds appropriately to that judge's attitude. Picking an Anatolian with a "golden retriever" personality is detrimental for the preservation of correct Anatolian working ability! A serious and responsible Anatolian breeder will work with the ASDCA (Anatolian Shepherd Dog Club of America), to educate AKC judges regarding correct Anatolian temperment and demeanor rather than following an ill-educated judges incorrect show selections. The ASDCA is AKC's parent club for the Anatolian Shepherd and is responsible for setting Anatolian Standards, including re-educating judges identified as selecting traits detrimental to excellent working ability (since working ability is the essence of the breed). When considering correct and necessary Anatolian temperament, it seems to me that listening to those who raise their Anatolians in a true working setting (with sheep and/or goats in a predator rich environment) is an excellent strategy. After all, they have first hand experience with those traits and behaviors necessary in excellent working Anatolians!

c. THE FOLLOWING INSTINCT - I'm repeating this trait because it is so vital in a correctly bred Anatolian and so many "breeders" don't have their dogs in a situation to be able to determine if their breeding dogs do or do not have this vital instinct! Basically, the Anatolian needs to follow the herd as it grazes, even if the Anatolian follows the herd from the front. This link takes you to my article, THE FOLLOWING INSTINCT.

d. CORRECT TAIL AND BODY POSTURE FOR SHEEP AND/OR GOATS - In order to smoothly exist in a sheep and/or goat herd, the Anatolian must correctly use his head, tail, and over-all body posture to signal to the herd his thoughts about the presence or absence of potential predators. This communication between an Anatolian and his/her herd is VITAL!!! Too many "show only breeders" love the look of the upright tail in the ring and don't seem care if the head and tail position is or is not correctly signaling the dog's observations about his surroundings. When a "breeder" selects their Anatolians for continuous head and tail-up position rather than breeding for correct herd communication positions, the correct herd communication positions of the Anatolians head and tail will eventually be eliminated from that line. As we know, the only way to know if the Anatolian uses correct head and tail position with the herd is to carefully observe the dog with the herd over time and in many different situations. Anything less is just guesswork.

e. NURTURING ABILITY THAT COMPELS THE ANATOLIAN TO GUARD WEAK, SICK, OR INJURED ANIMALS - This trait is seen most easily when the Anatolian remains in the pasture with a sick, weak, and/or injured animal instead of coming in for supper with the herd, which leaves the injured goat unprotected. The best Anatolian "needs" to protect that sick, weak, and/or injured animal; protection is at a higher need than even food. Responsible Anatolian breeders look for this protective trait, a trait missing in many Anatolians. When the responsible breeder sees this superior working trait they find a way to incorporate that dog's genetics in their breeding program! The presence or absence of this trait is impossible to determine without raising Anatolians with sheep and/or goats full time!

f. STRONG AND CORRECT RESPONSE TO BIRTHING - The superior Anatolian watches nearby while a goat or sheep is kidding or lambing. The superior Anatolian quietly cleans up the afterbirth and fluids where the kid was born without disturbing the new mom. The moment the mom shows any discomfort with the Anatolian (generally seen as a head tilt or a front leg forward stomp) the best Anatolian either retreats a few feet or drops to the ground to allow the mom to feel comfortable. Even when struck by the new mom, the superior Anatolian will not punish or show any aggression toward the mom or kids. However, if other animals come up, even other sheep and/or goats, the best Anatolians will quietly stop these other animals from getting closer than 15 to 30 feet of the birthing mom.

As with all working traits, only when Anatolians live 24/7 with sheep and/or goats in a predator rich environment can this necessary and vital trait be observed and evaluated. All Responsible Breeders test their breeding Anatolians for these necessary working traits and abilities. After all, the essence of this breed is SUPERIOR WORKING ABILITY. When a breeder fails to maintain their breeding Anatolians in a situation that doesn't allow testing and evaluation of working ability, I consider that breeder a puppy mill. If they do health testing and dog shows, I consider them a "glorified" puppy mill... but a puppy mill nevertheless, since they have failed to test for the essence of the breed!

g. WILL NOT BE LURED AWAY FROM THE HERD TOO FAR OR TOO LONG - If a predator is chased away from the flock, the Anatolian chases the predator only so far from the herd, then returns to the herd. Excellent Anatolians understand they may need to return quickly in case other predators attack from the rear so they become reluctant to chase predators too far from the herd. By returning to the herd relatively quickly, the superior Anatolian doesn't leave the flock unprotected. No Anatolian that wanders or feels free to leave the flock for a lengthy time without returning should EVER be bred!!! While a guardian dog wanders around the countryside, their herd is left unprotected! An Anatolian with genetic traits that allows it to wander must NEVER be bred! As always, only by testing potential breeding Anatolians 24/7 with sheep and/or goats in a predator rich enviornment can one test for the presence or absence of this destructive and incorrect trait!



***********************************





I BELIEVE THAT THE MAIN REASON ANATOLIANS ARE LOSING BASIC, NECESSARY WORKING ABILITIES, BEHAVIORS, AND DEMEANORS IS THAT TOO MANY ANATOLIAN "BREEDERS" ARE NOT TESTING FOR THESE ABILITIES, BEHAVIORS, AND DEMEANORS. TO ME, A WARNING SIGN THAT A BREEDER ISN'T TESTING FOR THE ESSENCE OF THE BREED (WORKING ABILITY) IS WHEN A BREEDER FOCUSES ON HEALTH TESTING AND SHOW WINS BUT DIMINISHES THE VITAL IMPORTANCE AND NECESSITY OF TESTING FOR ANATOLIAN WORKING ABILITY.

WHILE HEALTH TESTING AND SHOW WINS PROVIDE USEFUL AND INTERESTING INFORMATION, NEITHER OF THESE QUALITIES TELL YOU ANYTHING ABOUT THE POTENTIAL WORKING ABILITY OF THE PUPS BEING PRODUCED. ANATOLIAN WORKING ABILITY CAN ONLY BE EVALUATED IN ANATOLIANS LIVING 24/7 WITH SHEEP AND/OR GOATS IN A PREDATOR RICH ENVIRONMENT!

IF YOU ARE LOOKING FOR A PUP TO GUARD YOUR HERD, YOUR BEST BET TO GET A GOOD ONE IS TO OBTAIN AN ANATOLIAN PUP FROM TWO PROVEN WORKING ANATOLIANS OWNED BY A BREEDER WHO IS QUALIFIED AND WILLING TO PROVIDE ASSISTANCE REGARDING HOW TO CORRECTLY RAISE THE WORKING ANATOLIAN!