SHOW-ONLY BREEDERS:
HOW THEY AFFECT WORKING ABILITY

By Erick Conard, November 2020
Owning and Breeding Working Anatolians since 1985

"The purpose of conformation dog shows is to evaluate breeding stock.
Judges select winners based on their ability to improve the next generation of dogs."

IF TRUE, all AKC ANATOLIAN Judges (and Breeders) will PLACE A HIGH VALUE ON WORKING ABILITY when Judging and Selecting SUPERIOR ANATOLIANS!
To evaluate WORKING ABILITY, ALL AKC ANATOLIAN JUDGES (AND BREEDERS) must fully understand ANATOLIAN WORKING BEHAVIORS!
Without correct understanding of Anatolian Working Behaviors, there will be NO BREED PRESERVATION!



Link to LUCKY HIT Shadow KASIF (CASE) page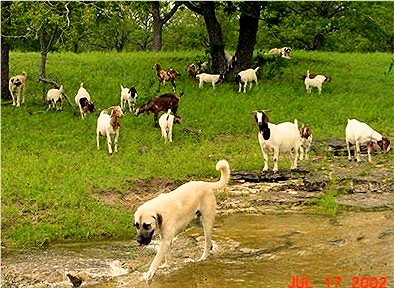 LUCKY HIT Shadow KASIF ("CASE")

with his brother LUCK HIT SHADOW BEAU (BEAU) and their dam, Lucky Hit's Tawny SHADOW (on the left)
protecting goats in the big pasture.
CASE is an AKC SIRE OF MERIT and the AKC TOP PRODUCER for 2009 AND 2011

CASE'S DAM, LUCKY HIT's Tawny SHADOW , has produced THREE AKC CHAMPIONS,

including the FIRST ANATOLIAN FEMALE GRAND CHAMION,
GRAND CHAMPION LUCKY HIT Shadow LAVANTA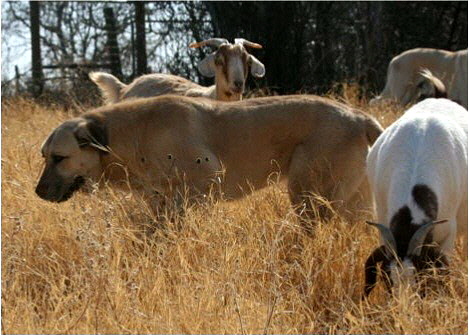 GRAND CHAMPION LUCKY HIT Shadow LAVANTA

another AKC Champion produced by SHADOW is:
Multiple Group placing CHAMPION LUCKY HIT Shadow ZIRVA.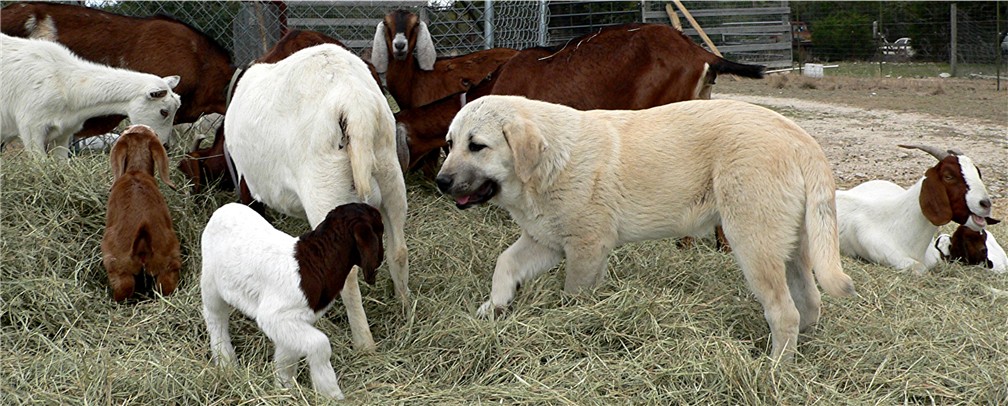 ZIRVA EARNED HIS CHAMPIONSHIP IN ONLY THREE SHOW WEEKENDS
and earned TWO GROUP 2's and a GROUP 4!


LUCKY HIT's Tawny SHADOW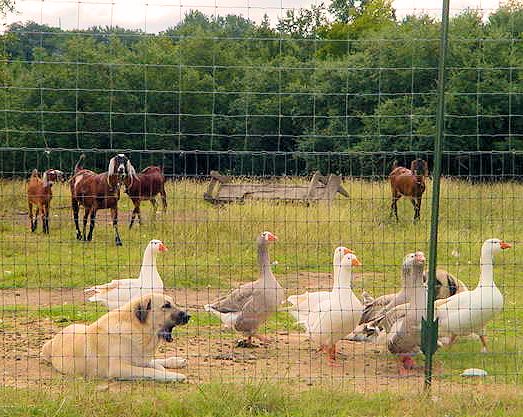 is also the GRANDDAM OF MORE THAN A DOZEN AKC CHAMPIONS.

Every one of these TOP AKC SHOW DOGS, SHOWN ABOVE, lived 24/7 with goats and other animals guarding them against coyotes, pig packs, bobcats, racoons, etc.


ANATOLIANS are a WORKING BREED selected for thousands of years for their ability to successfully guard sheep and/or goats in a predator rich enviornment.
Selecting SHOW WINNERS without considering each Anatolian's working ability WILL NOT IMPROVE THE NEXT GENERATION.

In many cases, I have personally observed Judges who select Anatolians with generic show dog behaviors, behaviors antagonistic to superior working ability.
If AKC Judges (and Breeders) continue to select for generic show dog behaviors rather than behaviors that enhance correct working ability, the breed will become yet another AKC registered breed whose working ability was ruined by AKC Judges (and Anatolian Breeders) who don't value the original nature and temperament of the breed.)

To guarantee Anatolian breed preservation, the ASDCA (the AKC Anatolian parent club) is responsible for ensuring judges (and breeders) understand and select for correct Anatolian behaviors, demeanor, and temperament required in superior working livestock guardians.

Although the ASDCA has been attempting to educate judges for the last two decades, I haven't seen much improvement in AKC Judges' evaluation of Anatolian behaviors, demeanor, and temperament.
MAYBE IT'S TIME FOR SOMEONE WHO RAISES ACTUAL WORKING ANATOLIANS TO BE PLACED IN CHARGE OF ASDCA JUDGES EDUCATION.

I'm not suggesting it should be someone with only a few acres and no real predators. Without serious predators who are actively attempting to catch, kill, and eat sheep and/or goats, I would be unable to correctly evaluate each Anatolian's ability to sucessfully stand up to and defeat each of the various predators. In addition, needing Anatolians to protect my animals allows me to understand why a certain level of internal strength and power is absolutely necessary in the breed!

Breeders who only have a show experience might be swayed to pick Anatolians that are easier to handle at the show. This type of selection reduces the breed's overall ability to successfully stand against serious and determined predators. Let's not forget that in Turkey a dog that turned and ran, no matter the odds against the dog, was killed that day by the shepherd. We've already lost much of that drive to protect by picking soft and agreeable Anatolians!

Over the years I've seen ASDCA Board Members and Officers spend lots of time and attention on all things SHOW related but mostly lip service when it comes to Anatolian WORKING ABILITY!!!

Maybe we have way too many Show-Only breeders running the ASDCA. After all, they don't truly understand what is required in superior working Anatolians and aren't dedicated enough to the breed to create a working situation for their Anatolians that will allow them to learn and understand the true nature of Anatolians. I think it's time for at least 2/3rds of the club officers and board members to be ACTUAL WORKING ANATOLIAN BREEDERS!!!!

After all, we are a WORKING BREED, aren't we? Why are people who breed their Anatolians without bothering to test them for working ability placed in a position to make serious decisions that affect all Anatolians?

Selecting behaviors, demeanor, and temperament that win in the show ring (but which will fail in the pasture) works against Anatolian breed preservation and will ultimately ruin Anatolian working ability!

If you don't love the true WORKING nature of Anatolians and can't be bothered to test for actual working ability, why don't you move to a breed you do love?

To obtain a clear understanding of an Anatolian's behaviors, demeanor, and temperament for superior working ability requires the Anatolian be raised 24/7 with sheep and/or goats in a predator rich environment and observed throughout the day by the owner. Only then will you begin to truly understand that dog's ability as a livestock guardian.

I believe that many show-only breeders have made no real attempt to procure proven superior working genetics.
To me, many show-only breeders seem to dislike (rather than love) correct Anatolian working behaviors. Correct working behaviors tend to make an Anatolian more difficult to handle in show situations.

Rather than loving Anatolians as they were developed, it seems to me that what many show-only breeders love about Anatolians is the fact that it is easier to win high level awards since so few Anatolians are shown.
Worse yet, it seems that many of them select for temperament, behaviors, and demeanor that make their Anatolians easy to handle and show rather than behaviors that are necessary and correct in a working Anatolian!

"Show-Only" Breeders: Prove me wrong!!! Only breed your unproven show females (or males) to proven superior working males (or females)!!!






Link to CHAMPION Birinci's YASHI of LUCKY HIT (YAHSI) page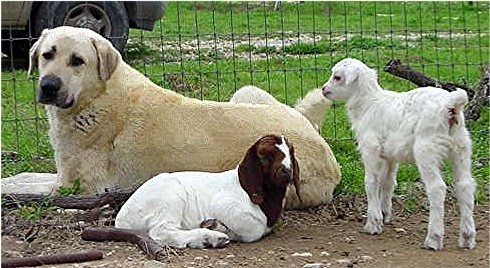 CHAMPION Birinci's YASHI of LUCKY HIT (YAHSI)
with some of his kids. YAHSI was especially effective with young and/or sick goats!

YAHSI WON BEST OF BREED at WESTMINSTER on February 12, 2008.
He was AKC's #1 All Breed Anatolian for three years in a row.
He took GROUP PLACEMENTS, INCLUDING GROUPS I's, dozens of times

Not only was YAHSI a PRODUCER OF MULTIPLE AKC CHAMPIONS, he also produced superior offspring.

One of his offspring is,
GRAND CHAMPION INANNA'S BAY BOUDREAU OF LUCKY HIT,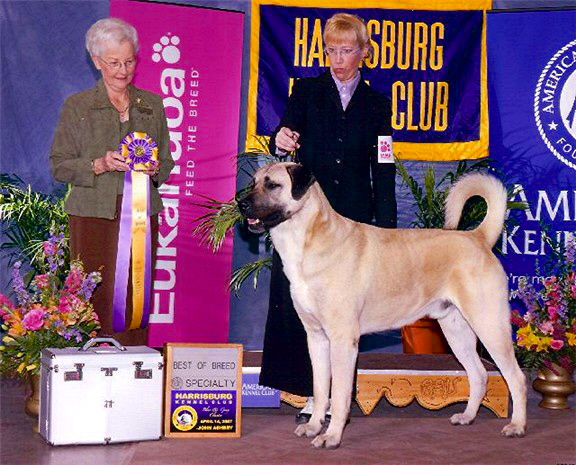 Boudreau won BEST OF BREED AT WESTMINSTER and THE NATIONAL SPECIALTY.
Additionally, Boudreau WAS THE TOP ANATOLIAN, BREED AND ALL BREED, FOR FOUR YEARS.

Another amazing YAHSI OFFSPRING was his daughter

CHAMPION Inanna BETHANY Bay of LUCKY HIT.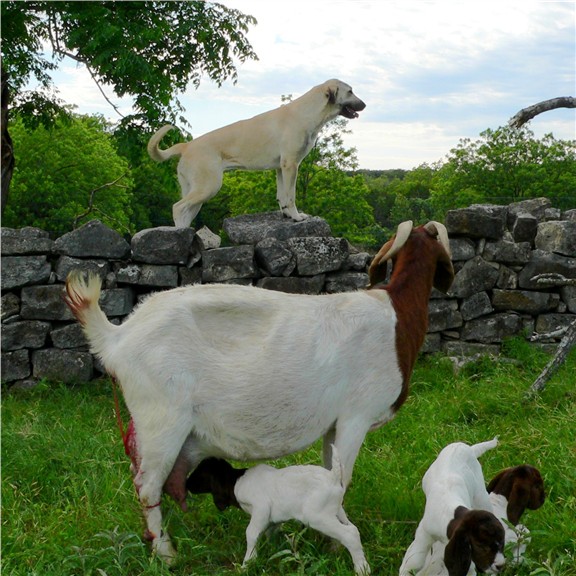 BETHANY obtained her AKC CHAMPIONSHIP IN ONLY TWO SHOW WEEKENDS!
In addition to guarding goats, llamas, geese, and ducks against serious predators HER ENTIRE LIFE,
Bethany produced 11 CHAMPIONS IN TWO LITTERS,
WAS AKC'S TOP PRODUCING DAM IN BOTH 2009 AND 2011,
and WAS designated AKC DAM OF MERIT and AKC DAM OF DISTINCTION!
BETHANY ALSO TOOK THE 2010 NATIONAL SPECIALTY BROOD BITCH AWARD!




Quoted below is the AKC Anatolian Standard Temperament section

Temperament

Alert and intelligent, calm and observant.
(EC: Calm yet alertly observant are traits breeders and judges can easily see.
These traits should be apparent even in the show ring during judging.
Anatolians that demonstrate high energy and playful behaviors should be eliminated from serious consideration.
Sheep and goats HATE and FEAR high energy play behavior in their guardians!)

Instinctively protective, he is courageous and highly adaptable.
(EC: While these traits are more challenging to correctly interpret in the ring, a knowledgeable judge can detect hints of these behaviors.
One excellent example is a protective Anatolian's aversion to a stranger controlling his mouth. A judge who tries this doesn't really understand the breed!!!
Judges who value the correct nature of the breed allow owners and handlers to display the mouth rather than the judge trying to control an Anatolian's mouth themselves.
Adaptability is demonstrated by aloof and observant behavior while being surrounded by strange dogs and strange people.
While Anatolians understand that almost all the people and their dogs aren't a threat, Anatolians will respond protectively when a threat does appear.)

He is very loyal and responsive.
(EC: Loyalty is difficult to see in the ring. And since the responsiveness is to family and not strangers, an Anatolian with a handler might not be as responsive as otherwise.
Nevertheless, a good judge will still look for clues to the Anatolian's loyalty and responsiveness.
This could be as simple as the Anatolian's desire to remain with his owner and allow himself to be touched by a stranger [the judge] approaching in a correctly submissive manner.
However, if the judge exhibits an aggressive and dominant demeanor or approaches the dog/human pair in an aggressively assertive manner,
a loyal and responsive Anatolian will not like this disrespectfully dominant and assertive approach and may protectively step between the judge and owner and even growl a warning.
In this case, a judge selecting correct Anatolian temperament and demeanor will reward the Anatolian's correctly protective response.)

Highly territorial, he is a natural guard.
(EC: When Anatolians with correct behaviors are off-territory (like in the show ring), they should exhibit off-territory shut down. This means that they allow all all non-threatening but strange people and dogs to approach without challenge. However, if a person or dog presents as a threat, the territorial Anatolian still has himself and his owner to protect and will immediately step between the owner and the threat and clearly show that they will allow no harm to come to their owner. I don't believe we want to see this correct aspect of Anatolians play out at a dog show, however.
As far as being "a natural guard," that can only be accurately assessed by observing an Anatolian in the pasture 24/7 over time guarding sheep and/or goats in a predator rich environment! If you fail to assess working ability, to me you are just a glorified puppy mill breeder no matter how many Championships you have or how extensive your health testing is. After all, Superior Working Ability is what defines this breed. No other trait or quality is more important than Superior Working Ability!)

Reserve around strangers and off its territory is acceptable.
(EC: Again, at a dog show an Anatolian is off territory and should exhibit off-territory shut down.
As a working Anatolian owner, off-territory shut down is a requirement, not just acceptable, because of the unbelieveable power an excellent working Anatolian possesses.
As always, even though off-territory, an Anatolian will be protective of his owner (less so with a strange handler).
Acting as if all the people and dogs are unseen ghosts [while still being aware of them] is an excellent way Anatolians demonstrate "reserve around strangers".)

Responsiveness with animation is not characteristic of the breed.
(EC: I see judges constantly enchanted by Anatolians who jump around with animation. A judge who likes seeing animation in Anatolians doesn't understand why playful behavior is so harmful to our breed.
In the pasture, I discourage puppy play and look for puppies who understand that they can only play some distance from their charges.
Sheep and/or goats hate and fear dogs that want to playfully interact with them. Excellent working guardians see that their playful activity disturbs the herd and immediately stop playing and lower their heads [or drop to the ground] to immediately reassure their charges.
Breeders who select playful Antolians to please ill-informed judges are NOT helping with BREED PRESERVATION! )

Overhandling would be discouraged.
(EC: Most of my dogs will not bait in the ring, an excellent behavior for working Anatolian genetics. They don't like baiting because they are off-territory and shut down... but still observing everything in case they need to protect their owner!
An Anatolian's head should be almost level when he trots around the ring. Not a showy look, but appropriate for an Anatolian with excellent working ability. This head position varies in the pasture according to the threat level.
Selecting for the flashy, heads-up Anatolian in the ring ruins centuries of sheep and/or goat communication genetics.
Many times I've taken Best of Breed and then had the judge say "I picked your dog because of his/her excellent conformation but if you really want to do well you need to work with your dog to keep his/her head up and move around the ring with more animation."
When I hear a judge say this, I know that judge might understand excellent conformation but they are ill-informed about Anatolian behaviors, temperament, and demeanor necessary in a superior working Anatolian!!
Of course, then I wonder why such an ill-informed judge thinks they are qualified to judge Anatolians! )





Link to CHAMPION LUCKY HIT Bethany NAZIK (NAZIK) page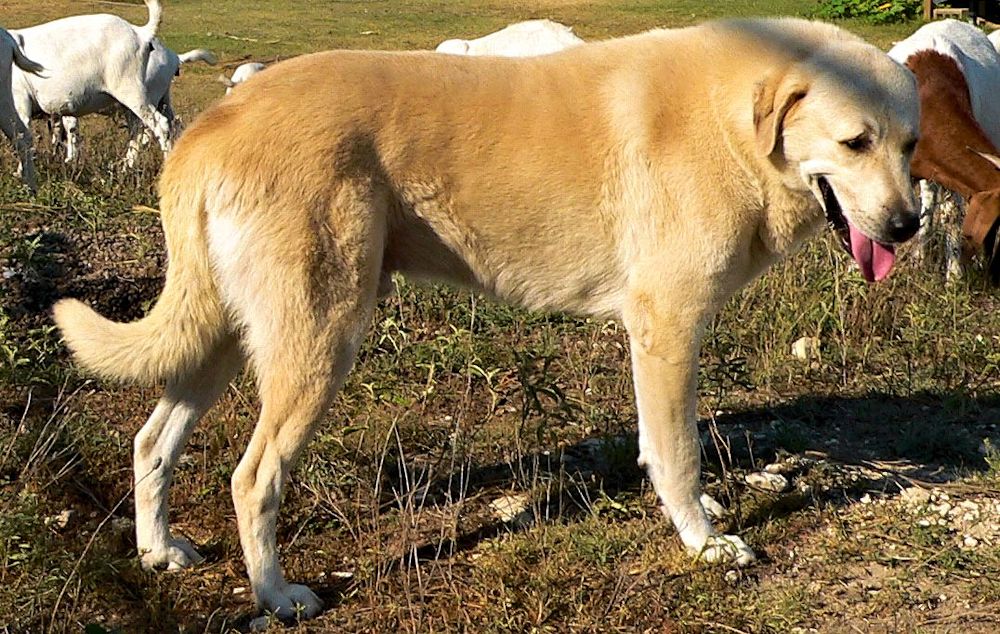 CHAMPION LUCKY HIT Bethany NAZIK (NAZIK)
AKC'S MALE TOP PRODUCER for 2012!
Son of AKC'S TOP PRODUCING ANATOLIAN MALE FOR 2009 AND FOR 2011 and
Son of AKC'S TOP PRODUCING ANATOLIAN FEMALE FOR 2009 AND FOR 2011

NAZIK EARNED HIS AKC CHAMPIONSHIP AT 11 MONTHS.
He spent his entire life as a working livestock guardian
protecting his goats, duck, and geese from coyotes, pig packs, bobcats, raccoons, and other serious predators.


Erick's addition:

Many of today's dog breeds are no longer capable of performing the tasks for which they were originally bred. Over time, Kennel clubs (with the willing help of so-called breeders who had "the best of intentions") imposed anatomical and/or physiological alterations and deformations on their once functional breed. Anatolians have been a livestock guardian breed for thousands of years and were selected for their superior ability to guard sheep and/or goats in a predator rich environment. For years many of the show-only Anatolian breeders have been looking down on working Anatolian owners and breeders for an "apparent" lack of concern for correct conformation and health testing. While health testing and excellent conformation are wonderful, let's not forget that the core essence of Anatolians is their working ability. Without intense and concerned selection for superior working ability, over time Anatolians will just become yet another large and potentially dangerous breed! Maybe its time so-called "breeders" who fail to test their breeding Anatolians for working ability are recognized as poor quality Anatolian breeders! (If a breeder fails to test for the essence of the breed, do we dare view that breeder as a glorified puppy mill?) After all, Anatolians were not selected for thousands of years for their ability to trot around a show ring!!!!!

The purpose of conformation shows (i.e. dog shows) is reputed to be for the evaluation of potential breeding stock. Therefore, Judges are obligated to select winners based on their ability to contribute and improve the next generation of Anatolians. Selections that hinder or reduce an Anatolian's working ability deteriorate the quality of the next generation.

Only age appropriate behaviors, temperament, and demeanor desirable in excellent working Anatolians guarding sheep and/or goats in a predator rich environment should be viewed as acceptable at a dog show. (Young Anatolians might exhibit a submissive response whereas a mature adult might react with a defensive or aggressive response. Also, a more playful nature might be seen in young Anatolians.)

All behaviors, temperament, and demeanor not conducive to superior working ability should be penalized, especially high activity and excitability, improperly high head and tail position while trotting, and failure to demonstrate protectiveness if required, including toward a judge that is overly assertive and aggressively dominant.

These changes in AKC judging practices will require the ASDCA to ramp up the Judges' level of understanding of the true working nature of Anatolians! Evidentally what our club has been doing to educate AKC judges the last 20 years has not been enough to stop the decline in Anatolian working ability!


---
Click picture below for
Erick Conard's Address and Phone Number Information
in a New Window
Erick's Address and

Phone Numbers Link
Link to BRONZE GRAND CHAMPION LUCKY HIT Bethany YAMIN (YAMIN) page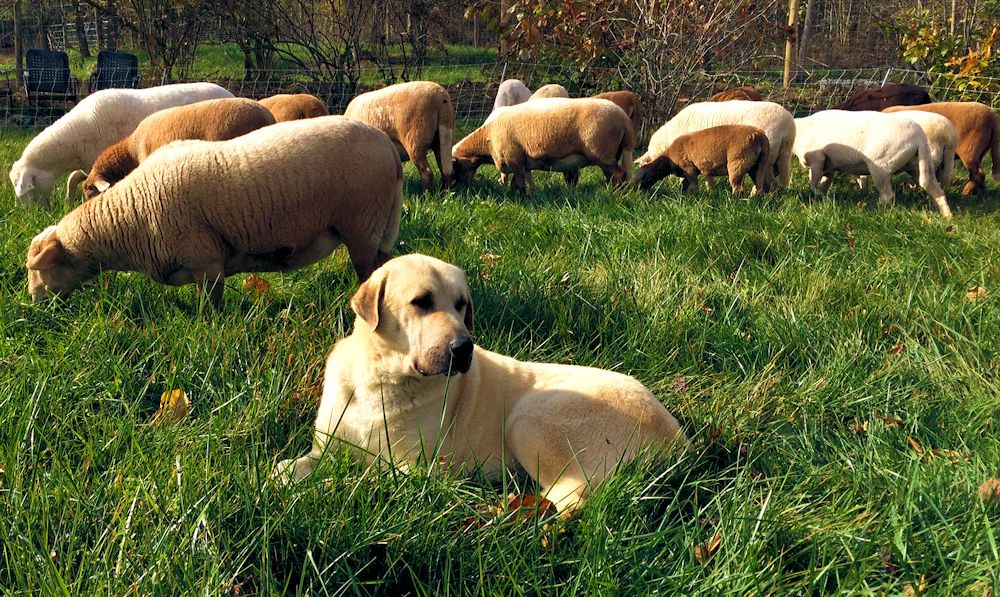 BRONZE GRAND CHAMPION LUCKY HIT Bethany YAMIN (YAMIN)

OWNED BY LESLIE AYERS OF CEDAR RISE ANATOLIANS

YAMAN, the 8th born pup of the litter, a male, is pictured here on May 12, 2014, at Leslie Ayers' Cedar Rise Ranch.


Yaman stands 32 inches at the withers and is OFA GOOD.



YAMAN was raised as a STRICTLY WORKING LIVESTOCK GUARDIAN with hair sheep for his first 4 1/2 years. He is an excellent working Anatolian
with proven superior working ability. Yaman has outstanding temperament and working demeanor.



At 4 1/2 he was purchased by Cedar Rise Ranch (Leslie Ayers) and moved from Missouri to Virginia, going from the barn to motels and car travel with Leslie with ease.
After a few weeks at Cedar Rise Ranch guarding their sheep and chickens, he began a show career and obtained his AKC CHAMPIONSHIP IN ~ONE MONTH!
Look on his page for his show record information!



At two weeks Yamin's litter was placed outside with goats and llamas and adjacent to ducks and geese.
He is the son of two proven working livestock guardians, one of whom is a Champion.
In addition to proven working ability, his CHAMPION dam is the daughter of two AKC CHAMPION SPECIALS.
His CHAMPION GRANDSIRE, CHAMPION Birinci's YAHSI of LUCKY HIT, was
#1 AKC All Breed in 2005, 2006, and 2007 and took BEST OF BREED at WESTMINISTER in February, 2008,
and his CHAMPION GRANDDAM, CHAMPION Maranda's Matilda Bay (GRACE), was
the #1 AKC BREED Female in 2004!!!


AKC'S NUMBER 1 ANATOLIAN FOR 2015
BEST OF BREED AT EUKANUBA DECEMBER 13, 2015
EARNED TWO BEST OF BREEDs AND THREE MAJORS AFTER HIS FIRST TWO WEEKS OF BEING SHOWN!!!
NOT BAD for a 4 1/2 YEAR OLD MALE Anatolian raised strictly on the farm guarding Livestock until only a few weeks earlier!


Link to BRONZE GRAND CHAMPION LUCKY HIT Bethany YAMIN (YAMIN) page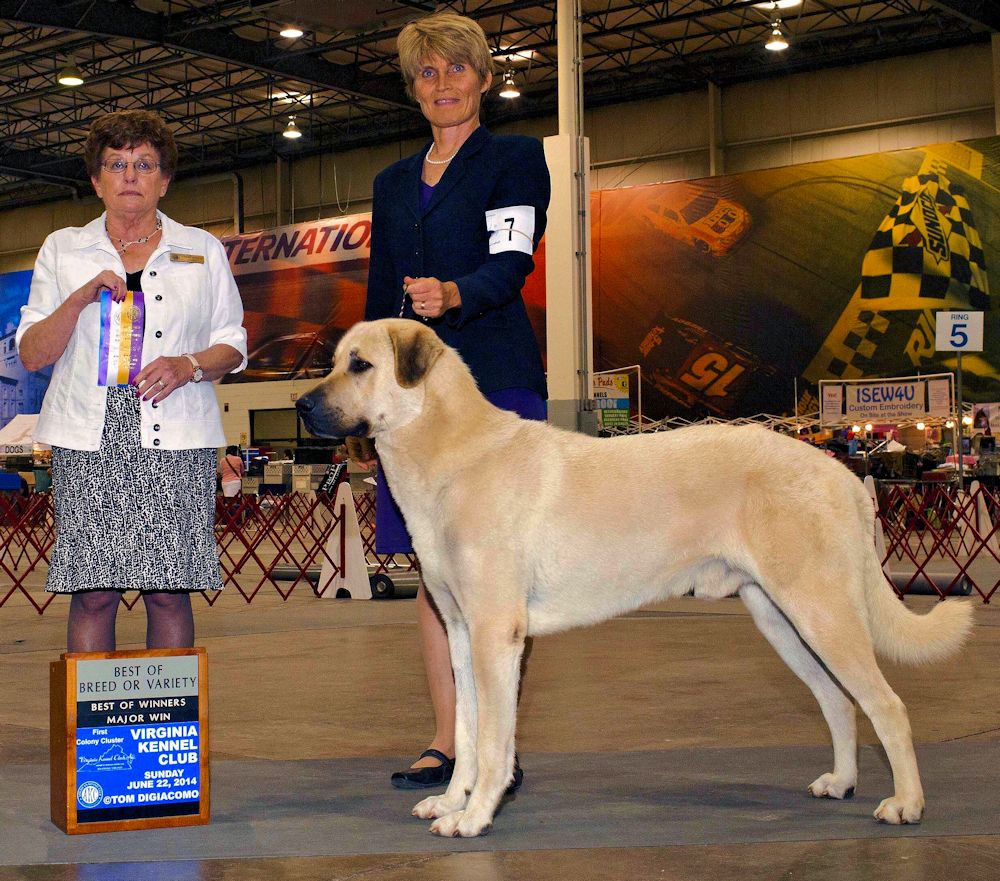 Leslie Ayers, Cedar Rise Anatolians, owner, With BRONZE GRAND CHAMPION LUCKY HIT Bethany YAMIN (YAMIN)




When I say "show-only breeders" I am referring to all individuals who breed Anatolians and raise them in a non-working situation whether they show or not. (i.e. They don't raise Anatolians with sheep and/or goats 24/7 in a predator rich enviornment.

While you might obtain interesting information about an Anatolian's reaction to horses, cows, pigs, etc., for evaluation of correct working behavior the Anatolian must be observed with sheep and/or goats.

The show-only breeder's experience with Anatolians is limited to dog shows and/or other non-livestock guarding activities. This lack of exposure to a true working situation gives this type of breeder a very limited understanding of the complete Anatolian. To me, the scary thing about show-only breeders making Anatolian breeding decisions is these show-only breeders lack an understanding of correct Anatolian temperament, behaviors, and demeanor. This can only be obtained through years of observing Anatolians living 24/7 with sheep and/or goats in a predator rich environment. After all, how can someone with no experience of behaviors required in Anatolians who actually protect livestock select correct working Anatolian temperament, behaviors, and demeanor.

To me, a serious and dedicated Anatolian breeder will make every attempt to provide a correct working environment for their Anatolians in order to make knowledgeable and informed breeding decisions. (Yes, I know raising Anatolians in a true working situation is very difficult and takes a HUGE amount of time! But I fell in love with the true Anatolian - the working Anatolian, so to me the time and energy is worth it!)

Anyone who breeds Anatolians and doesn't create a correct working environment to help select their best breeding Anatolians is just a dabbler and NOT a serious Anatolian breeder! Anyone wanting an Anatolian puppy for livestock protection should only consider puppies from working parents... the more working ancestors in the pedigree the better! Additionally, Anatolians correctly selected for working ability also seem to have behaviors that make them excellent home/companion guardians in the right homes!

For more than two decades, I have provided guidance for owners with Anatolians they can't control. My special focus is providing help for owners with Anatolian puppies that cannot be trusted with their charges. Over time, I have noticed a decrease in the level of working ability in pups (mainly from show-only kennels). It appears to me that many Anatolian show-only breeders have not paid sufficient attention to Anatolian working ability in their breeding selections. Only by placing working ability as the top priority in breeding choices can a breeder maintain superior working ability in their line of Anatolians.


Some of the main working traits I've seen altered when a breeder selects traits for show judges rather than the pasture have led to:

1.) a total lack of suspicion of strangers (totally necessary to protect livestock from theft),
2.) a preference to be with humans rather than sheep and/or goats,
3.) a happy go lucky, energetic attitude (creating fear and apprehension in the herd),
4.) inability to properly signal to their charges the correct level of threat (Seen when dogs continuously hold their head and tail high, which should be a signal that danger is nearby),
5.) no sense of shame seen in the Anatolian's response when an owner catches and chastizes their Anatolian playing with its charges. (This indicates a serious loss of working ability!!!), and
6.) a decrease in the Anatolian's protective responses (Selecting for an easy-going nature can result in an Anatolian less determined to protect its charges.)

To keep superior working ability, Anatolian breeders MUST use working ability as their primary selection criterion. Sadly, a great many Anatolian Show-Only breeders don't know what level of working ability their Anatolians have because they do not maintain their Anatolians in a true working environment (with sheep and/or goats in a predator rich environment). To truly select Anatolians for superior working ability one must observe the Anatolian over its lifetime in the pasture with its charges and serious predators.

If an Anatolian "breeder" is selling Anatolian pups from Anatolian parents who have not proven their ability to work, the "breeder" should warn all puppy buyers that the parents are unproven!!! The declaration that all Anatolians are excellent working prospects IS NOT TRUE!

Besides learning how the Anatolian handles the various types of predators (coyotes, dogs, hogs, cougars, bears, racoons, predatory birds, etc.), it is vital that a breeder observe how their potential breeding Anatolian handles their charges having kids, reacts to an unruly and aggressive goats, demonstrates their level of bonding to their charges, and exhibits the many and complex traits necessary in a true working Anatolian interacting with its charges.

Many behaviors some AKC judges prefer (generic show dog behaviors) are antagonistic to excellent working behaviors. When breeders don't understand Anatolian working ability because they have no actual experience with the working Anatolian, they seem to pick as their breeding Anatolians those dogs who win in the show ring even though many of those favored show traits are the opposite of the working triats required in an excellent working Anatolian. When this happens, both the AKC judges and the ill-informed breeders are responsible for a decrease in Anatolian working ability. It appears to me that these judges and these breeders don't possess an understanding of and don't exhibit a proper value for the importance and significance of excellent working temperament, demeanor, and behaviors in Anatolians.


---


Other Articles written by Erick Conard in 2020 are

"Anatolian Color"

"Training Tips for Raising Young Working Anatolians"



---
Click picture below for
Erick Conard's Address and Phone Number Information
in a New Window
Erick's Address and

Phone Numbers Link
---

Click Picture to Return to Anatolian Main page