Erick Conard's Lucky Hit Ranch: Anatolian Page

Sakarya's Blazing Legend (Duke)
USA
OFA GOOD ANS-886G28M-NOPI (Hips)
OFA NORMAL ANS-EL60F27-T (Elbows)
AKC Reg # WP932752/05
Color: Fawn Black Mask
DOB: August 23, 1999



Active Working Flock Guardian




Son of

Sire: GERLACH Beau

USA
OFA GOOD ANS-671G24M-T
Reg #
Color: Fawn Black Mask
DOB:

Duke's sire, GERLACH BEAU, is an outstanding Working Livestock Guardian. He is large, powerful, and correct in structure. He has a beautiful head, which you can see he passed along to his son, Sakarya's Blazing Legend (Duke - ABOVE). You can also see Gerlach Beau has superior conformation.

At the 2001 ASDCA National Specialty in Rancho Sante Fe, California Beau
was awarded First Place Open Dog
designated Winners Dog, and
awarded First in the Stud Dog Class.



---


Gerlach Beau's Sire - Ahmet of Avanos
Hip Dysplasia Results - OFA EXCELLENT (ANS-123E24M)



---


Gerlach Beau's Dam - Agape Fayda
Hip Dysplasia Resluts - OFA GOOD (ANS-478G24F)
Extraordinary Working Lifestock Guardian

Agape Fayda
OFA GOOD ANS-478G24F
Reg # 899309608293349
WP693073/10 7/96 OFA24G (FDS)
Red Fawn Black Mask
December 16, 1993




Dam: CHAMPION SAKARYA'S Siraze

USA
INTERNATIONAL CHAMPION
MEXICAN CHAMPION
ASDCA CHAMPION
ARBA CHAMPION
OFA GOOD HIPS ANS-563G25F-T
OFA NORMAL ELBOWS ANS-EL23F25-T
Reg #
Color: Fawn Black Mask Blaze
DOB:


CHAMPION Sakarya's Siraze is the #2 Anatolian Shepherd for 1997 (ARBA Rating System) and judges comment on her outstanding movement, powerful muscular body, and wonderful temperament.

CHAMPION Sakarya's Siraze's Dam is Sakarya's Kira.
OFA GOOD ANS-124G24F



SAKARYA'S BLAZING LEGEND (Duke)

Lucky Hit Ranch is Proud to Introduce into Our Lines a Sakarya produced Anatolian Shepherd, Sakarya's Blazing Legend (Duke), a large and beautiful working male.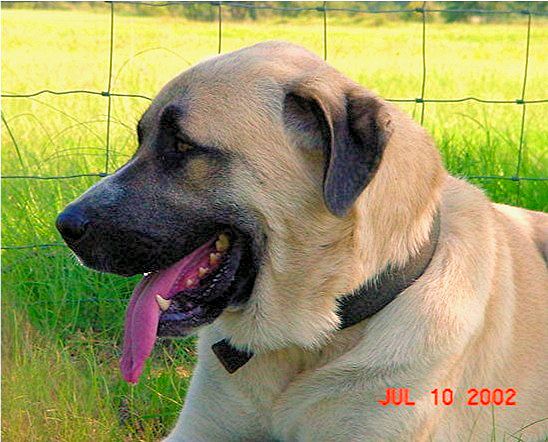 Our May 8, 2001 litter between Lucky Hit's Tawny Shadow and Sakarya's Blazing Legend (Duke) produced Anatolians with excellent working skills as well as top show potential. One of these pups (Lucky Hit's Seven of Nine) is ranked 12th in the Nation at the breed level by AKC as of July 6, 2002.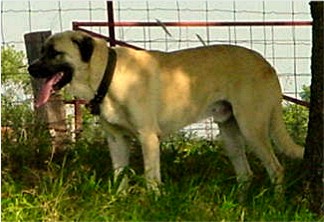 Because this cross proved so successful, in both working ability and conformation, Shadow was again bred and produced a second litter on September 2, 2002.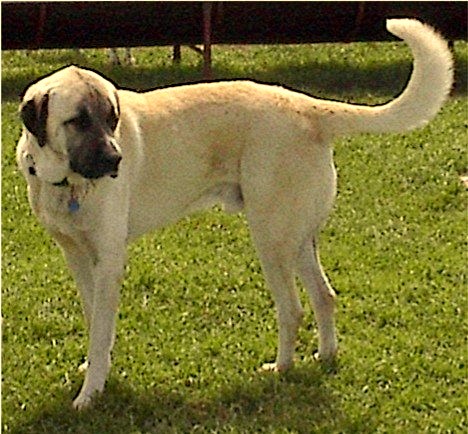 Sakarya's Blazing Legend (Duke) is a beautiful and powerful working male with an excellent conformation, a beautiful broad and muscular head, and outstanding movement. He has an excellent temperament and has proven goat guardian ability.


---
If you would like further information regarding my dogs, please do not hesitate to call. And thanks again for your interest in my Anatolian Shepherd Guardian Dogs.
I hope this information has helped you in selecting an Anatolian Shepherd Guardian Dog from Erick Conard's Lucky Hit Ranch.

---
Click picture below for
Erick Conard's Address and Phone Number Information
in a New Window
Erick's Address and

Phone Numbers Link
---
CLICK HERE to CLOSE this window
and return to the previous page.