My Third Generation Anatolian,
Lucky Hit's Tawny Autumn (Autumn)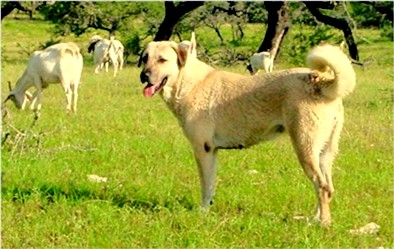 Autumn is an incredibly tuff female Anatolian who is devoted to protecting my animals, my property and me. As tuff as Autumn is, she is just a gentle and nurturing with newborn kids. If a newborn kid is sick or injured, she will stay with and protect the weak baby night and day. Occasionally a kid is born dead and she will lay near it, keeping it between her front legs, occasionally gently and carefully licking the dead baby with such hopeful sweetness that it breaks your heart. Finally, when I take the dead kid away from her, she follows me with a great deal of anxiety... and for days she will check and re-check the place she last saw the kid.
Autumn is a very muscular, large boned female with very straight, well-angulated legs. She is very loving and affectionate with her family and initially very suspicious and aggressive toward strangers. However, she has learned to trust my judgement and when introduced to a newcomer she is very polite and accepting (as long as the non-family member doesn't act aggressively, scare the goats, or speak in strident tones).

Lucky Hit's Tawny Autumn - a Tawny Daughter and Casy and Zara Granddaughter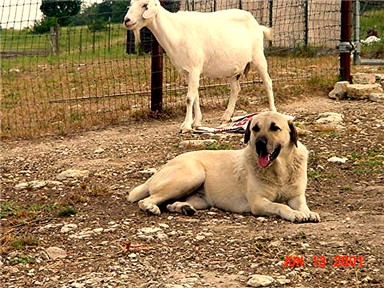 Autumn is a loyal female fiercely bonded to her goats, especially the kids, and to her property. She is excellent with kids and especially protective of them.

Autumn has excellent confirmation and movement and is an especially tuff female.

Autumn has an excellent working temperament and has proven to be a loyal and faithful guardian. When she is with a group of goats I know they are completely safe.
Note Autumn's excellent rear end!!!