Erick Conard's Lucky Hit Ranch: Anatolian Page

GERLACH Beau
USA
OFA GOOD ANS-671G24M-T
Thyroid Normal
DNA Profile # V32665
AKC Reg # WP759032/12 (2-99)
UKC Reg # P266-626
Color: Fawn Black Mask
Weight: 130 pounds
Height: 32 inches
DOB: June 14, 1996
Owned and Bred by Kathy Gerlach

Active Working Guardian


Gerlach Beau, a handsome working Anatolian Shepherd, stands 32 inches at the shoulder and weighs 130 pounds. In addition to having a wonderful conformation, Beau has a fantastic temperament. He is easy going and loves being around people. At the Sacramento Pet Fair, a three day event where people and dogs enjoy each other's company, he was named "Ambassador of Anatolians."

Although Beau is an effective working lifestock and family guardian on the Gerlach Ranch in Napa, California, he has been successful in the show ring as well. At the 2001 Anatolian Shepherd Dog Club of America National Specialty, Beau was awarded Winners Dog. He is pictured on pages 10, 11, and 27 of AKC's, An Illustrated Guide: The Anatolian Shepherd, and in the AKC's breed video, Anatolian Shepherd Dog.



Son of

Sire: Ahmet of Avanos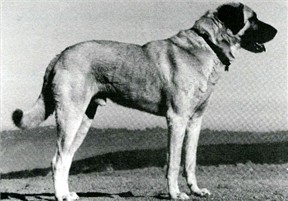 USA: SIRE AND DAM BOTH TURKISH IMPORTS
OFA EXCELLENT ANS-123E24M
Reg # GS1272
Reg # AKC WP691674/01 (7-96) OFA24E (FDS)
Color: Fawn Black Mask
DOB: December 8, 1986
Height: 31 inches
Weight: 125 pounds





Dam: Agape Fayda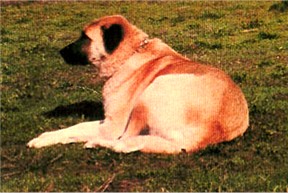 USA
OFA GOOD ANS-478G24F
Reg # 899309608293349
Reg # AKC WP693073/10 7/96 OFA24G (FDS)
Color: Red Fawn Black Mask
DOB: December 16, 1993
A Proven Working Anatolian with Superior Working Ability



Click picture below for
Erick Conard's Address Email and Phone Number Information
in a New Window
Erick's Address Email

and Phone Numbers Link
CLICK HERE to CLOSE this window
and return to the previous page.