Erick Conard's Lucky Hit Ranch: Anatolian Page

Agape Fayda
USA
OFA GOOD ANS-478G24F
Reg # 899309608293349
Reg # AKC WP693073/10 7/96 OFA24G (FDS)
Color: Red Fawn Black Mask
DOB: December 16, 1993
Died: January 2003
Weight:
Height:
Bred by:
Owner: Kathy Gerlach

A Proven Working Anatolian with Superior Working Ability


Agape Fayda was the first Anatolian Shepherd at the Gerlach Ranch. Dog packs had been killing their sheep and chickens and she was purchased as a working guardian. Time and again she proved herself to be a successful flock guardian. After her first litter, her daughter Gerlach BeBe and son Gerlach Beau became the ranch guardians and Fayda became the main house and property guardian.

Fayda had a wonderful temperament and was loving dog. However, she always knew if some one or some thing was not right. She was very protective, staying with sick family members or standing in from of Kathy Gerlach to protect her when strangers came to the property. The day Fayda became ill she still went down to the sheep pen to see her new born lambs.



Daughter of

Sire: Kibar Kodaman Boaz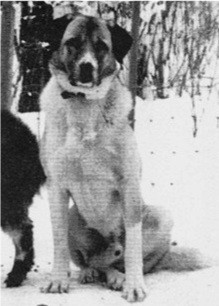 BEST OF OPPOSITE SEX Working Dog 1994 Anatolian National Speciality
USA
OFA not listed
Reg # CB-274-1189-071-89150
Reg # AKC WP692390/01 (7-96)(FDS)
Color: Fawn Black Mask
DOB:


In 1993 Boaz made the cover of the Anatolian Times (Volume 43). In that issue (pgs 19-20) is an article detailing Boaz's superior working ability and amazing recuperative powers. The article is entitled "The Death to Life Journey of BOAZ the HERO DOG (Kibar Kodaman)" by Kris Bryant.

Boaz was an incredible Anatolian!!!

After his first amazing survival and five days after attending the Anatolian National Speciality in 1994, Boaz was visciously attacked. He suffered from multiple gunshot wounds, and as before he recovered.







Dam: Vadnais Guzel-IC (Kimry)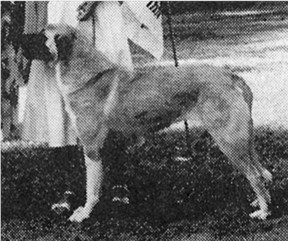 High Score in Obedience Trial, 1994 Anatolian National Speciality
Best Working Dog, 1994 Anatolian Regional Speciality
Brood Bitch, 1994 Anatolian Regional Speciality
USA
OFA GOOD ANS-360G25F
Reg # DV2-898-1733-082-92155
Reg # AKC WP692535/02 OFA25G (7-96) (FDS)
Color: Fawn Black Mask
DOB: June 3, 1992
DOD: October, 1994



Sadly, Kimry was shot and killed in 1994 five days after returning to her ranch near Durango, Colorado, from the Anatolian National Speciality.





Click picture below for
Erick Conard's Address Email and Phone Number Information
in a New Window
Erick's Address Email

and Phone Numbers Link
CLICK HERE to CLOSE this window
and return to the previous page.