Erick Conard's Lucky Hit Ranch: Anatolian Shepherd Page
Lucky Hit's Shadow TOKAT
A Forth Generation Anatolian
Son of
Sire: SAKARYA'S Blazing Legend (DUKE)
Dam: LUCKY HIT Tawny SHADOW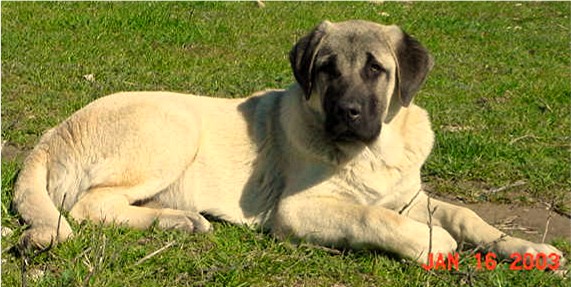 Tokat is an extremely large male with solid bone and correct structure.
He is pictured above at Four Months while guarding llamas and
below at two years guarding goats and llamas.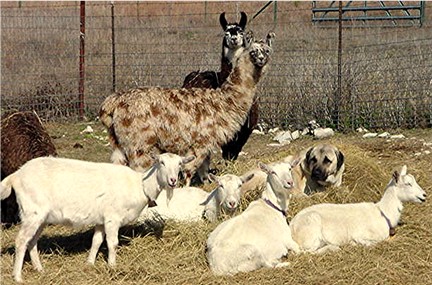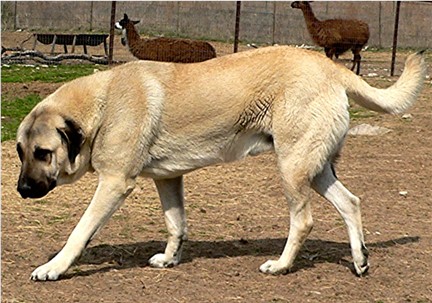 Tokat has a terrific working temperament. He is very gentle with his charges, responsive to my wishes, and protective of those he loves. Tokat enjoys loafing with his pals (above left). He is respectful toward his charges and toward me. Notice (above right) his excellent head posture (respectfully lowered). While he is a bit large (he weighed 148 pounds when he turned two) he hasn't lost his agility and athleticism.

Click picture below for
Erick Conard's Address Email and Phone Number Information
in a New Window
Erick's Address Email

and Phone Numbers Link

My Forth Generation Anatolian,
Lucky Hit's Shadow Tokat (Tokat)

Lucky Hit's Shadow Tokat - a Son of Lucky Hit's Tawny Shadow and Sakarya's Blazing Legend (Duke)




At three months and three weeks of age, Tokat weighed 65 pounds on the vet's scale. As you can see, Tokat is a very large boned pup. Tokat is pictured here at 2 1/2 months.





Tokat has shown very good working livestock guarding demeanor and behavior. I expected him to develop into a superior working flock guardian and he definitely has.


Tokat has an amazing personality. He is wonderful with livestock and is particularly gentle with kids.






Tokat loves his charges and loves for his kids to crawl all over him... even when he is eating! Tokat has the perfect personality, attitude, and demeanor for a working livestock guardian.

He weighed 148 very lean pounds on the vet's scale right after he turned two in September, 2004.

TOKAT IS A VERY BIG BOY!



The kid is two weeks old and loves playing king of the Tokat mountain!



Tokat enjoys all the attention, even when he is eating!
Tokat has an incredibly beautiful head!



---
Click picture below for
Erick Conard's Address Email and Phone Number Information
in a New Window
Erick's Address Email

and Phone Numbers Link