Erick Conard's Lucky Hit Ranch: Anatolian Page

HISAR Ramona
ENGLAND (EXPORTED TO Norway)
B.V.A HIP SCORE TOTAL 30
Reg # T0546402T01
Color: Fawn (Fawn Black Mask)
DOB: November 21, 1992
Weight:
Height:
Owner: Mr Stale Trang (Norway)
Breeder: Natalka Czartoryska





As recounted by Caroline Southen - "Ramona was one of two pups whelped by HISAR Melisa and sired by HISAR Yarik. Ramona had an horrific accident when she was a pup and underwent extensive surgery to mend her shattered back leg. Her leg mended well and she went on in adulthood to live in Norway with livestock. (Norway, rather than Sweden, as per email from Stale Trang dated 2/14/2011.) In addition to guarding sheep, Ramona has been bred in Norway two times to International Champion Hisar Aklik, producing two litters. Hisar Aklik, a red/tri rough coated male, is litter brother to the well known American Champion Hisar Akar.

Before leaving for Norway, Ramona whelped her own litter of 10 puppies (4 dogs, and 6 bitches) November 13, 1994, sired by HISAR Kartal. These puppies travelled far and wide, including Australia, France, Belgium, Holland and Ireland among other places."

Following is a list of the ten pups HISAR Ramona and HISAR Kartal produced in 1994:


HISAR Masal
Male
Mr G Galand
Belgium
HISAR Mavera
Female
Mr Jan Knutsen
Norway
HISAR Mika
Female
Miss Natalka Czartoryska
Ireland
AUSTRALIAN CHAMPION
HISAR Mimar
Male
Miss D Schaffel
Australia
HISAR Mizmar
Male
Miss D Hampden-Smith
UK
HISAR Morina
Female
Miss M Facon
France
HISAR Murassa
Female
Mr V Harris
Netherlands
HISAR Murat
Male
Mrs A Wlasveld
Holland
HISAR Musanna
Female
Mrs Caroline Southern
UK
HISAR Mutena
Female
Mr J Smulders
(??)


One of these pups, a male, is AUSTRALIAN CHAMPION HISAR Mimar.


Hisar Musanna - Female
Musanna had two litters. The first was a litter of only one pup... a red/fawn bitch. The second was a litter of two pups... a tricolour male and a fawn black masked bitch (who has recently [2005] whelped her own litter of seven (7).





Daughter of

Sire: HISAR Yarik
ENGLAND
HIP X-RAY RESULTS CLEAR , PRE-B.V.A SCORING
Reg #
Color:
DOB:



Dam: HISAR Melisa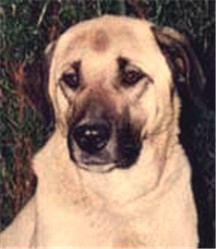 ENGLAND
HIP X-RAY RESULTS CLEAR, PRE-B.V.A SCORING
Reg #
Color: Fawn Black Mask
DOB:




Click picture below for
Erick Conard's Address Email and Phone Number Information
in a New Window
Erick's Address Email

and Phone Numbers Link
CLICK HERE to CLOSE this window
and return to the previous page.