Erick Conard's Lucky Hit Ranch: Anatolian Page
Lucky Hit's Shadow Duvar
A Forth Generation Anatolian
Son of
Sire: Sire: SAKARYA'S Blazing Legend (DUKE)
Dam: LUCKY HIT Tawny SHADOW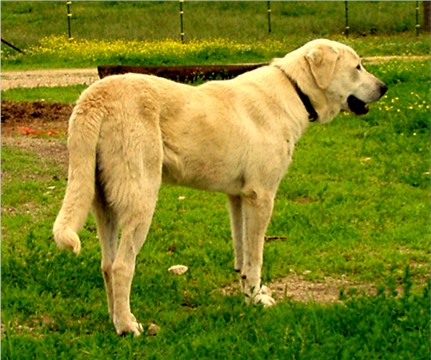 Eleven month old Duvar guarding his boer goats in Kentucky.
---
LOID FARMS
Duvar's home in Kentucky
About Loid Farms Cattle
Loid Farms is located in Bowling Green, Kentucky, approximately one hour north of Nashville. They started farming with Santa Gertrudis Cattle in 1986.
In 1990 they moved on the farm and began raising Gelbvieh Cattle. The state of Kentucky had money available to cattle producers to upgrade their herd. To receive this money, the producers must pick bulls that meet EPD requirements and BSE. These state funds helped Loid Farms sales and they found the Gelbvieh breed of Cattle more profitable. Loid Farms is now shipping bulls to Valhalla Gelbvieh Ranch in Colorado. Valhalla is a registered Gelbvieh breeder that holds annual bull sales every February, and sells approximately 200 bulls which average $2000 a bull.
About Loid Farms Goats
They acquired their first goats in August of 2002. All of their goats except four came from Texas. Their goat herd grew to around 60 does by 2003, when they had approximately 30 fullblood SA Boer does and approximately 30 percentage does. Their first kidding was in October of 2002. Ten does kidded 20 kids ... 14 does and 6 bucks. They also had three adult bucks, all of which are Embryo Transplants. One is sired by Bingo, one is sired by Renoir, and one is sired by Sir Edmond, DSM breeding.
About Duvar at Loid Farms
Duvar arrived at the ranch when he was about four months old. He'd been there only about thirty days when a stray dog attempted to get into the pasture where he and his goats lived. Duvar skillfully manuevered his goats into the far corner of the pasture and stood protectfully between his goats and the stray. Duvar is a wonderful, no-nonsense working dog who enjoys spending time with his charges. Duvar spends his time in the pasture with his goats rather than laying around the barn. He has the desirable aloof personality and is respectful to the family, including their young daughter.
Contact us at:
Phone: (270) 782-2694 Cell: (270) 202-3996
Email:
dloid@mindspring.com
John, Donna and Heather Loid
3426 Highway 185
Bowling Green, Kentucky 42101
Loid Farms Home Page
---
Click picture below for
Erick Conard's Address Email and Phone Number Information
in a New Window
Erick's Address Email

and Phone Numbers Link