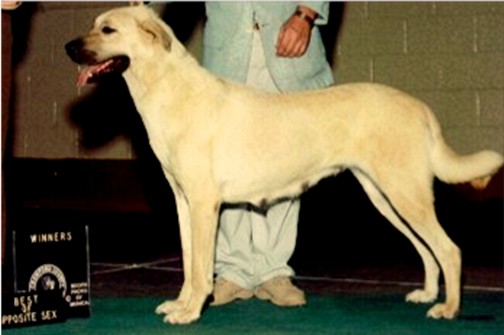 Venus earning Best Opposite Sex
CHAMPION Night Watch's Venus
SHOW AND WORKING LIVESTOCK GUARDIAN
AKC # WP74359101
USA
OFA GOOD - ANS-757G36F-T
OFA NORMAL - ANS-EL55F36-T Elbows
Color: Fawn Black Mask
DOB: October 19, 1996
Venus's owner, Sherry Baker (pilotspeak@hotmail.com) states that Venus finished her AKC championship in 6 shows. Sherry added that Venus's performance in the ring, field and as a brood bitch is unbelievable. Venus is producing some of the best Anatolian puppies available-both showing and working. They possess size and build with outstanding movement.
CHAMPION Night Watch's Venus
is the daughter of

Sire: Birinci's Parlak Onayak
OFA EXCELLENT ANS-512E24M
AKC # WP69306503
Color: Fawn Black Mask
DOB: April 27, 1994


Dam: Breezy Way's Kara
OFA GOOD ANS-445G30F
AKC # WP69285302
Color: Fawn
DOB: January 15, 1993

VENUS is the litter sister of

CHAMPION Night Watch's Breezy Leo - Male
# 3 Breed Anatolian in ????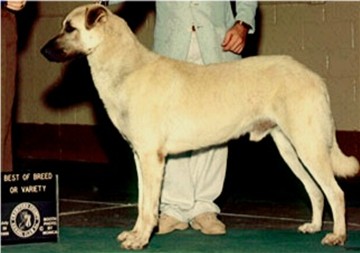 CHAMPION Night Watch's Venus

| SHOW | DATE | JUDGE | CLASS | RESULTS | PTS |
| --- | --- | --- | --- | --- | --- |
| Paducah Kennel Club, Inc. | 06/13/1999 | William F. Hixson | Open Bitch | 1/w/BB | 1 |
| Crawford County Kennel Club | 07/30/1999 | Dr. Lee Anthony Reasin | Open Bitches | 1/W/OS | 3 |
| Dan Emmett Kennel Club | 07/31/1999 | Donald M. Booxbaum | Open Bitches | 1/W/OS | 3 |
| Marion Ohio Kennel Club, Inc. | 08/01/1999 | Mrs. Keke Kahn | Open Bitches | 1/W/B/BW | 3 |
| Muncie Kennel Club, Inc. | 08/21/1999 | Mrs. Alice Downey | Open Bitch | 1/W/OS | 3 |
| Anderson Kennel Club | 08/22/1999 | Frank T Dusek | Open Bitch | 1/W/OS | 2 |

Click picture below for
Erick Conard's Address Email and Phone Number Information
in a New Window
Erick's Address Email

and Phone Numbers Link


CHAMPION Night Watch's Venus
VENUS


OFFSPRING OF
CHAMPION Night Watch's Venus
VENUS