Erick Conard's Lucky Hit Ranch: Anatolian Page

CHAMPION Buyuk Hoja of Cankaya Tepe

1992 ASDCA NATIONAL SPECIALTY BEST OF BREED (BISS)
A TOP 10 ANATOLIAN FOR A NUMBER OF YEARS
1993 ARBA Cherry Blossom Classic
Three GROUP I's (Working Group) and
Multiple BEST IN SHOW (BIS) Winner
Kennel Review's Tournament of Champions, BOB
Winner of the ASDCA Outstanding Service Dog Award (Category III)

ASDCA CHAMPION
ARBA CHAMPION
I.M.F. CHAMPION
FIC CHAMPION
USA
OFA GOOD ANS-193G25M
DNA Profile: V413005
AKC Reg # WP692369/03 (07-96)(FDS)
ASDCA 4701189008
Color: Gray Fawn Black Mask
DOB: January 8, 1989
Breeder: Louise Emanuel
Owner: Louise Emanuel


Weight: 168 pounds
Height: 35 inches


At the 1993 Cherry Blossom Classic ARBA show, where Hoja earned three GROUP I's (Working Group) and BEST IN SHOW
Christopher Habig (Judge from Germany, FCI Judge, and world renowned specialist on all Molosser breeds) stated about Hoja "I have been all over the world researching Molosser breeds. This is the soundest Anatolian I have seen in 20 years."
Raphael Santiago, BIS Judge, Puerto Rico, FCI Judge, and FCI Committee on Standards said about Hoja "This is a world class dog anywhere."



Son of

Sire: Ulas of Cankaya (Ulas of Chankaya)

TURKISH IMPORT
OFA EXCELLENT ANS-116E53M
Reg # SE1573
Color: Fawn/Black Mask
DOB: May 1, 1984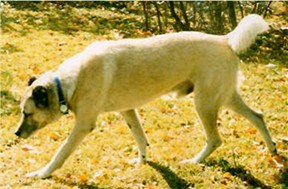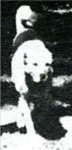 Dam: CHAMPION Dilim Ay Hasat (Harvey)(USA)
FCI, ASDCA, Mexican, and Molosser CHAMPION
OFA not listed
AKC Reg # WP69121201
Color: Fawn Black Mask
DOB: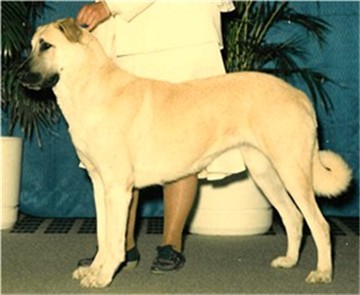 ASDCA CHAMPION
MEXICAN (FCM) CHAMPION



Click picture below for
Erick Conard's Address Email and Phone Number Information
in a New Window
Erick's Address Email

and Phone Numbers Link
CLICK HERE to CLOSE this window
and return to the previous page.