Erick Conard's Lucky Hit Ranch: Anatolian Page


Birinci's Flintis (or Flenters)
An Amazing Anatolian Shepherd
Sire: Ulash of Tokat - IMPORT / TURKEY
Dam: Pinarbasi's Tamum (Charlie)
Breeder: Louise Emanuel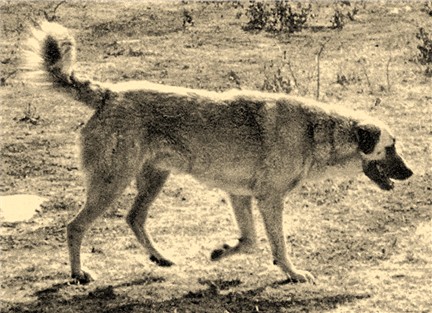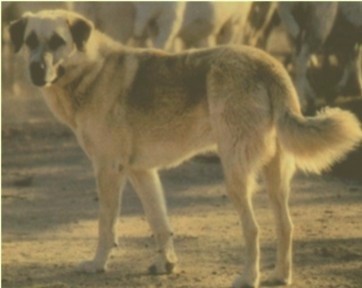 Flintis in Africa Guarding his Sheep and Goats

Donated to the Cheetah Conservation Fund in Namibia by
Louise Emanuel of Birinci Anatolians
Flintis is World Famous as an Extraordinary Working Dog

Click picture below for
Erick Conard's Address and Phone Number Information
in a New Window
Erick's Address and

Phone Numbers Link

Birinci's Flintis and the Baboons, Otavi, Namibia

The following is my understanding of the story of the world famous male Anatolian Shepherd, Flintis (Flenters), in Africa. My version of the story is the result of integrating the story from various sources I located (see bottom of this page.)

Birinci's Flintis was born March 1994. His dam is Pinarbasi's Tamum (Charlie), Granddam to my Birinci's Yahsi (Handsome). Charlie is pictured here in 2003. Flintis's Sire is the muscular Turkish Import, Ulash of Tokat. His picture can be found in my forth generation Anatolians.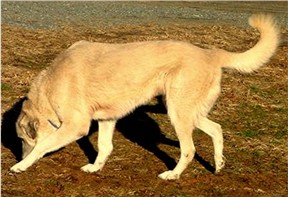 Flintis is famous in Namibia, Africa, and worldwide. Perhaps Flintis is the world's most famous working guardian Anatolian because when he was only 20 months old he defended his herd against a baboon troup and lived!

Flintis was donated to the Cheetah Conservation Fund in Namibia to participate in their Livestock Guarding Dog Program by Birinci Kennels in June, 1994. This program, begun in 1994 with the cooperation of Ray Coppinger,co-founder of the Livestock Dog Project at Hampshire College in Amherst, Massachusetts, and donates Anatolians to small African farmers and ranchers to protect their livestock from cheetah, jackals, hyena, and other predators.

According to the Born Free Foundation, the cheetah population is now endangered. An American woman named Laurie Marker co-founded the Cheetah Conservation Fund (CCF) outside Otjiwarongo, Namibia. One method she devised to help the cheetah population was to breed Anatolian shepherds and place them with ranchers. Anatolians seemed ideal because they have a special style. For hundreds of years they have been prized by Turkish sheep owners for their tendency to stay close to camp and not run off chasing other animals.

Ninety-five percent of Namibia's cheetah population lives on commercial farmlands and and are believed to be a threat to livestock. Many farmers shoot or catch cheetah, reducing the already endangered population, so this program was designed to help preserve the cheetah population there. As a part of this program, Flintis was placed on a farm/ranch with a serious cheetah problem owned by Mr. Johann Coetzee, who had reported losses as high as 43 lambs/kids in one night. (In the six years following Flintis's arrival from the CCF, cheetahs didn't make a single successful attack on Coetzee's sheep.)

When Mr. Coetzee acquired his Anatolian shepherd pup (Flintis), he named him Flenters, which is Afrikaans for "rags." When he was six weeks old "Flenters" (Flintis) was placed with lambs and goats about his size and taken on short outings with the herd in the mornings. Flintis lived, ate and slept with Coetzee's livestock to aid in the bonding process. The ultimate goal is to produce a dog so protective and possessive of his flock that he will treat them as if they were his own pups to be cherished and protected.

When Flintis was nine weeks old, Coetzee's herdsman reported that Flintis was chasing lambs, something they wouldn't tolerate. The herdsman wanted Flintis removed. Having decided he liked the gregarious young pup, Mr. Coetzee wanted to observe him for one more day. When he watched, he saw that Flintis was resting in the shade with the lambs. When the lambs moved into the sun, Flintis got up and redirected them back into the comfortable shade. This made Mr. Coetzee smile. Like generations of his forebears bred to guard livestock on the Anatolian Plateau of Turkey, Flintis had imprinted on the sheep. He thought he was one of them; they were now his family. Coetzee was relieved. He did not want to get rid of his dog. Before Flintis came to the farm, the rancher had suffered huge livestock losses, many of them attributed to cheetahs. For Namibian ranchers, Cheetahs are among the most lethal of the African wildlife. Like many ranchers, Coetzee felt he had to kill cheetahs to protect his livelihood. With Flintis protecting his livestock from the cheetah, Mr. Coetzee could leave the cheetah alone.

As Flintis grew, on his own he began taking the lead position as the herd moved into the pasture. Flintis also always positioned himself downwind instinctively. Besides protecting the livestock from cheetah, Flintis proved equally effective in warding off other animals including jackals, caracals and baboons. A troupe of baboons is considered to be a serious threat as baboons are among the most fearsome creatures in Africa.

Many nights jackals came to the corral and were killed by Flintis, who would then drag the carcass to the camp gate and leave it for the owner or herder. It wasn't long before only a very few jackals visited. Also after Flintis's arrival, they had no losses due to cheetah.

One terrible afternoon in early December,1994, which in Namibia is summer with temperatures near 100 degrees a troup of around 40 baboons came near the corral. Lambs and kids are favored prey for baboons. At this time Flintis was only 20 months old and as the baboons approached Flintis moved out to confront them. The troop's two dominant males refused to back down from Flintis, who refused to back down as well. His "family" had to be protected! Outnumbered but with teeth bared, Flintis bravely faced the baboons alone. (In combat between baboons and dogs, it is believed that the dog will always be killed.)

Flintis's herder, Mattias, heard Flintis bark out a warning and then heard terrifying noises from the bush. The troup's two dominant males confronted Flintis and they began fighting. Neither the baboons nor Flintis would back down. Mattias rushed toward the horrible screaming of the baboons and Flintis's furious growls. Before he got there, ominously, there was silence.

Quickly, the herdsman rushed to alert Mr. Coetzee. Returning to the area of battle, they scanned the terrain, searching over and around thorn bushes for some sign of Flintis. Then a baboon screech rang out, signaling a renewed attack. Incredibly, the fight continued. Coetzee and Mattias ran toward the horrible sounds of battle. On the ground by a large rock they found the body of a dead male baboon. In the distance ahead they heard Flintis still locked in mortal combat.

The fight had covered over a mile in distance. The baboon's screaming and the dog's growls were terrible and horrible to hear as Mattias and Coetzee ran toward the ugly sounds. Then again there was silence. When the two men reached the scene, both animals lay silent on the ground. The second male baboon lay dead. The men were sure Flintis was dead as well. He lay apparently lifeless. His body was covered in blood. His back was laid open to the bone.

Coetzee bent down close to more carefully examine his guard dog. The damage he saw shocked him. But somehow, Flintis was alive! He was barely breathing, but he was alive. They carefully carried the wounded dog to a shady place at the corral and began tending his wounds.

For five days they administered doses of penicillin, but Flintis didn't eat or drink. Finally, on the sixth day, Flintis drank from his water bowl and ate a few mouthfuls. Eight days after the baboon attack, Flintis tried to rejoin his herd and was restrained with a nylon rope. He chewed through the restraining rope and limped over to the flock, only to collapse among them and so was tied with a chain. In a few more days they began allowing him to return to his herd and then to return to guarding them. Over time, Flintis seemed to return to his normal strength and behavior.

The CCF had already lost one guard dog to baboons, and its staff could hardly believe an Anatolian Shepherd had lived through an encounter with two of Africa's most ferocious primates. Widely reported throughout Namibia, the canine's feat encouraged other ranchers to inquire about the guard-dog program.

However, some people wondered if this baboon encounter would reduce Flintis's ability to be an effective guardian. Flintis remained an effective guardian and continued to successfully chase off predators. He remained a steadfast herd protector, creating his own livestock guardian dog legend both there and throughout the world.

In 1995 a reluctant Flintis was briefly separated from his flock, so that the CCF could introduce him to Boots, a female Anatolian shepherd. Thirteen wiggly puppies were born from this happy union, and most now guard Namibian flocks.



The End








The original ten (10) Anatolians for the Cheetah Conservation Fund (CCF) program were imported from the United States to Namibia. These Anatolian Shepherds were a donation from Louise Emmanuel of Birinci Anatolians and the Livestock Guarding Dog Association, under the direction of Dr. Ray Coppinger, Livestock Guarding Dog specialist. From those first dogs, many litters have been born and successfully placed with livestock herds. Currently, over 80 CCF dogs are protecting livestock herds on Namibian farms.

You can learn more about the Cheetah Conservation Fund (CCF) program at Cheetah Conservation Fund (CCF) Website


Flintis's story can be found in the three sources I've been able to find.
1. The June, 2000, issue of Reader's Digest.
2. Pages 3-5 of Coban Kopek, A Guardian Dog Journal (Volume 7, Number 1, Winter 1997-98), the Newsletter of Anatolian Shepherds' Dogs Worldwide, Inc., Grand Island, Nebraska. The article was under Special feature: Spotlight on Anatolians at Work, entitled Flintis, and written by Susan B. Deshaies, Cheetah Conservation Fund (Susan Deshaies is a volunteer for the Cheetah Conservation Fund and was heading the CCF's Livestock Guarding Dog Program in Namibia at the time the article was written.). The article indicates that Susan says that "Flintis is the GREATEST dog I have ever met. Not only is he the very best at what he does, once he establishes you are friend, not foe, he is very gentle and friendly."
3. The account is also presented in a book, "Dogs With Jobs, Working Dogs Around the World," which can currently be obtained through Amazon.com.




---
---
---

Click Picture to Return to Lucky Hit Main Home Page

---
You can reach me by e-mail at: ejc@ix.netcom.com