Erick Conard's Lucky Hit Ranch: Anatolian Page

Capar of Sakarya
Turkish Import from the Sivas-Kangal Region of Turkey
WORKING LIVESTOCK GUARDIAN
OFA NORMAL ANS-46N57M
ASDA Reg # HA00000001180046
Color: Fawn Black Mask
DOB: February 15, 1980
Weight: 115 pounds
Height:
Owners/Importers: Quinn and Marilyn Harned
and
Dr. Susan Goldhor was the individual who traveled to Turkey in May, 1980, and imported Capar of Sakarya to the USA. Dr. Goldhor discovered Capar in the Turkish town of Karapir köyü. There Dr. Goldhor purchased both Capar and Capar's sister, Karabash. Both pups were fawn with black mask. You can read a detailed account of Dr. Goldehor's adventure at http://www.anatoliandog.org/goldhor-03.htm



Sire of
Ahmet of Avanos
and
CHAMPION Sakarya's Kira



Capar was imported from Turkey in 1980 by Quinn and Marilyn Harned. He was placed at the New England Farm Center for the first three (3) years he lived in the United States.

Capar is featured on the Control Data Corporation video entitled, "Livestock Guarding Dogs." He was also the breed representative in George Ancona's book, Sheep Dog.

Capar was one of the great, proven livestock guardian dogs. He passed on these outstanding guardian traits to his many offspring. At 115 pounds of lean muscle and bone, he proved that attitude and demeanor was more important than size and weight. He was awesome.



Son of

Sire: Keles
In Turkey
True Karabash (fawn with black mask) with excellent temperament

Dam: Gurce
In Turkey
White and rather slim



Additional Pictures of Capar of Sakarya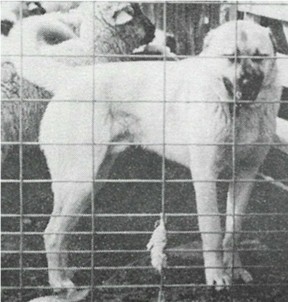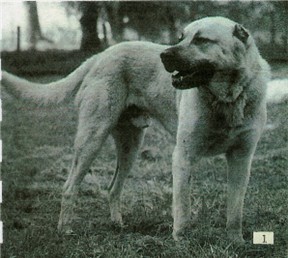 Click picture below for
Erick Conard's Address Email and Phone Number Information
in a New Window
Erick's Address Email

and Phone Numbers Link